Ricky Magee Browsers 2013
by Ricky Magee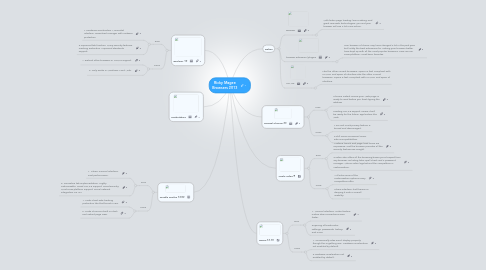 1. Define
1.1. Browser
1.1.1. With faster page loading, less crashing, and great new web technologies, you and your browser will see a lot more action.
1.2. browser extension (plugins
1.2.1. Your browser of choice may have changed a lot in the past year, but luckily the best extensions for making your browser better have kept up with all the most popular browsers. Here are our cross-platform, must-have favorites.
1.3. HTML5
1.3.1. Like the other current browsers, Opera is fast, compliant with HTML5, and spare of interface.Like the other current browsers, Opera is fast, compliant with HTML5, and spare of interface.
2. Googel Chrome 23
2.1. Pros
2.1.1. Chrome Instant means your Web page is ready to read before you finish typing the address
2.1.2. Leading HTML5 support means it will be ready for the future, application-like Web
2.2. Cons
2.2.1. 1.Do Not Track privacy feature is buried and discouraged.
2.2.2. 2.Still some occasional minor site incompatibilities.
3. Apple Safari 5
3.1. Pros
3.1.1. 1.Safari's launch and page-load times are impressive, and the browser provides all the security features we sought.
3.1.2. 2.Safari also offers all the browsing basics you'd expect from any browser, including tabs, spell check and a password manager. Where Safari lags behind the competition is customization.
3.2. Cons
3.2.1. 1.It lacks some of the customization options many competitors offer.
3.2.2. 2.bare interface, but there's no denying it aids in overall usability.
4. Mozilla Firefox 16.02
4.1. Pros
4.1.1. 1. Clean, minimal interface. Fast performance.
4.1.2. 2. Innovative tab implementation. Highly customizable. Good HTML5 support. Good security. Most cross-platform support. Social network integration via API.
4.2. Cons
4.2.1. 1. Lacks client-side tracking protection like that found in IE9.
4.2.2. 2. Lacks Chrome's built in Flash and Instant page view.
5. Marketshare
6. Explorer 10
6.1. Pros
6.1.1. 1.Hardware acceleration. Minimalist interface. Download manager with malware protection
6.1.2. 2.Improved tab function. Many security features. Tracking Protection. Improved standards support.
6.2. Cons
6.2.1. 1. Behind other browsers in HTML5 support.
6.2.2. 2. Only works in Windows 7 and Vista.
7. Opera 12.10
7.1. Pros
7.1.1. 1. Minimal interface. Turbo feature makes slow connections even faster.
7.1.2. 2Syncing of bookmarks, settings, passwords, history, and more.
7.2. Cons
7.2.1. 1. Occasionally sites won't display properly, though this is getting rare. Hardware acceleration not enabled by default.
7.2.2. 2.Hardware acceleration not enabled by default.