GAME NAME: G1ITCH3S
by Du OD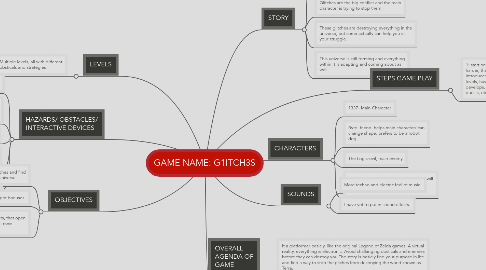 1. OBJECTIVES
1.1. Stop these glitches and find your place in the universe.
1.2. complete challenges to get bonuses.
1.3. possible side quests, that open up more story and/or more bonuses.
2. HAZARDS/ OBSTACLES/ INTERACTIVE DEVICES
2.1. Hostile enemy's that you will need to defeat. Multiple types that take different ways to defeat, some actually can help you ("enemy of my enemy is my friend").
2.2. Other static objects such as glitching walls that you will need to avoid.
2.3. False glitch- Breakable walls.
2.4. Unknown glitch 16- Fast travel you across a level.
2.5. Power glitch- Gives random bonus to player.
3. STORY
3.1. Alternate universe, everything is electronic, world you are on is called Terra ( Double meaning Terra is short for Terabyte and Terra also means Earth),
3.2. Main character is trying to find his place. Glitches are the big conflict and the main character is trying to stop them.
3.3. These glitches are destroying everything in the universe, but some actually can help you in your struggle.
3.4. This universe is still forming and everything within it is adapting and coming about as well.
4. CHARACTERS
4.1. 1337- Main Character
4.2. Byte- friend, helps main character/ can change shape, prefers to be a robot dog
4.3. The Logic-evil, main enemy
4.4. Polymorphics- all types of enemies you will encounter/ fast enemies, boss enemies, etc.
5. SOUNDS
5.1. More techno and electric feel of music.
5.2. I have yet to put in sound effects.
6. LEVELS
6.1. Multiple levels, all with different obsticals and strategies
7. OVERALL AGENDA OF GAME
7.1. It a platformer basicly, like the original Legend of Zelda games. A virtual reality, everything is electronic. Avoid challanging obsticals and enemies before they can destroy you.The story is basicly find your purpose in life and find a way to stop the gliches from destroying the world known as Terra.
8. STEPS GAME PLAY
8.1. 1: start on tutorial level, introduce to story, world, controls, etc. 2: Levels get gradually harder, the story is not really introduced until you finsh the first 4 levels. 3: More story is introduced, now you know more, more purpose of playing the game. 4: After about six levels, have to fight boss, more story introduced after defeating boss, etc. 5: Again story develops, introduction to more characters and game play, protagonists, antagonists, side quests, etc.