Final Projects
by Tyler Ystaas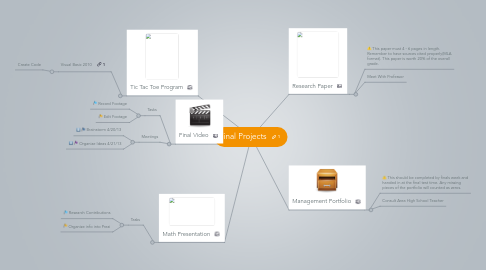 1. Research Paper
1.1. This paper must 4 - 6 pages in length. Remember to have sources cited properly(MLA format). This paper is worth 20% of the overall grade.
1.2. Meet With Professor
2. Management Portfolio
2.1. This should be completed by finals week and handed in at the final test time. Any missing pieces of the portfolio will counted as zeros.
2.2. Consult Area High School Teacher
3. Final Video
3.1. Tasks
3.1.1. Record Footage
3.1.2. Edit Footage
3.2. Meetings
3.2.1. Brainstorm 4/20/13
3.2.2. Organize Ideas 4/21/13
4. Math Presentation
4.1. Tasks
4.1.1. Research Contributions
4.1.2. Organize info into Prezi
5. Tic Tac Toe Program
5.1. Visual Basic 2010
5.1.1. Create Code