Excerpts and Articles
by
Kimberley Fetzer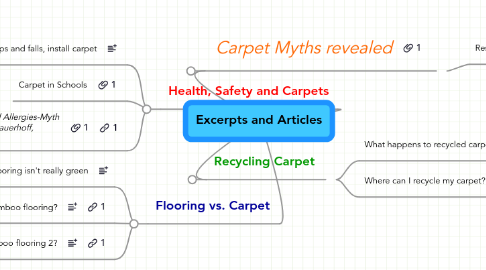 0.0
stars -
0
reviews range from
0
to
5
Excerpts and Articles
Carpet Myths revealed
Research findings
  In a 1991 study conducted in Denver, air quality data were collected in 16 carpeted environments – 6 clerical offices, 5 service base offices, 5 residences, and 1 elementary school classroom. Air monitoring was conducted before and during professional carpet cleaning using the different methods widely available. Particles, gases, biopollutants, temperature, and relative humidity were all successfully measured. The Denver study strongly suggests that professional cleaning with the wet extraction method is the most effective process in reducing contaminant levels of bio-pollutants and particles. The "before" and "during" cleaning measurements of air pollutants show that the highest concentrations of airborne pollutants were associated with environments that that were moderately to heavily soiled, cleaned infrequently, or were cleaned with methods that had excessive chemical or particle residue. This central finding in the Denver research suggests that an effective cleaning program is critical to improving or maintaining indoor air quality, even though the focus on the study was limited to carpet cleaning.  
Flooring vs. Carpet
Hardwood flooring isn't really green
Sure wood can be recycled and composted but how we get our wood is not "green" at all! According to research done by Fred Pearce for his book "Confessions of an Eco-Sinner: Tracking Down the sources of my stuff" Beacon Press, 2008, merbau and bintangor are favored tropical hardwoods for plywood veneers used in flooring planks and furniture exported to North America and Europe. These woods are taken from the shrinking rainforests of Indonesia (Borneo and Sumatra), and Papua New Guinea. Much of the logging is done illegally and shipped through various undocumented channels to China where it is turned into our DIY flooring planks and kitchen cabinetry. Forest Trends, a watchdog organization, concluded that "the overwhelming majority of commercial logging operations are illegal" with logging rates that far exceed sustainability of the rainforests and the practice provide little benefit for the local peoples in the originating countries. Think again about installing those hardwood floors!
Bamboo grows relatively quickly but it is being grown now in unsustainable ways. See the link to an article posted on Treehugger.com (a Discovery Company).      
"Some bamboo flooring contains glue with formaldehyde; some producers raze existing forests to make way for their bamboo crop; and there is no Fair Trade certification to guarantee appropriate conditions and wages for workers." from article posted on http://planetgreen.discovery.com/
Health, Safety and Carpets
Prevent slips and falls, install carpet
The University of Rochester Medical Center was concerned about replacing the carpet to the entrance of the main building because with the amount of snow they get in New York, it was impossible to keep it clean. It was left with a hard surface floor covering. However, after one year's time without the carpet, the university had settled a total of 15 slip/fall claims with the average claim being in excess of $30,000 each! Carpet was installed right away. Since then, the university has not had another claim. The director says that even if they have to replace the dirty carpet annually, it is still cheaper than paying out slip/fall claims. Slip/fall prevention is one of the top benefits of having carpet.
Carpet in Schools
Recycling Carpet
Check out these products made from recycled carpet.
Only two carpet reclamation sites in northern California (both in San Francisco). Ask your carpet installer where you carpet will go and insist on recycling it!