Robert Ewell
by Adam Corrie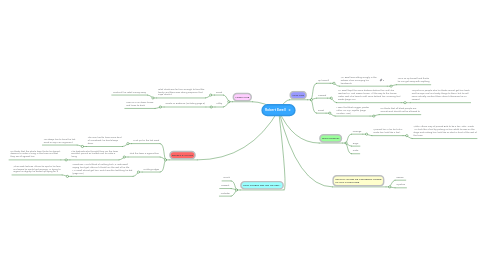 1. BELIEFS & VALUES
1.1. Must put in the last word
1.1.1. The man had to have some kind of comeback, his kind always does.
1.1.1.1. He always has to have the last word or say in an argument
1.2. That the town is against him
1.2.1. The bastards who thought they ran this town wouldn't permit an honest man to make a living
1.2.1.1. He thinks that the whole town thinks he doesn't deserve to make a living in this town and that they are all against him
1.3. Holds grudges
1.3.1. Somehow, I could think of nothing but Mr. Bob Ewell saying he'd get Atticus if it took him the rest of his life. Mr. Ewell almost got him, and it was the last thing he did. (page 291)
1.3.1.1. When Bob last saw Atticus he spat in his face and swore he would get revenge. In trying to regain his dignity, he ended up dying for it
2. ACTS LIKE
2.1. up himself
2.1.1. Mr. Ewell was sitting smugly in the witness chair, surveying his handiwork.
2.1.1.1. He is so up himself and thinks he can get away with anything
2.2. Coward
2.2.1. Mr. Ewell kept the same distance behind her until she reached Mr. Link Deas's house. All the way to the house, Helen said, she heard a soft voice behind her, crooning foul words.(page 272
2.2.1.1. He picks on people who he thinks cannot get him back, and he says cruel and nasty things to them, but he will never actually confront them about it because he's a coward
2.3. Racist
2.3.1. I seen that black nigger yonder ruttin' on my Mayella! (page number: 188)
2.3.1.1. He thinks that all black people are animals and should not be allowed to
3. MOTIVATED BY
3.1. revenge
3.1.1. I proved him a liar but John made him look like a fool.
3.1.1.1. While Atticus may of proved Bob to be a lier, John made I'm look like a fool by picking on him whilst he was on the stage and making him look like an idiot in front of the rest of the town
3.2. Rage
3.3. Pride
4. HOW OTHERS SEE HIM OR HER...
4.1. Drunk
4.2. Peasant
4.3. Outsider
5. LOOKS LIKE
5.1. Drunk
5.1.1. relief check was far from enough to feed the family, and there was strong suspicion that Papa drank it
5.1.1.1. Drinks all his relief money away
5.2. Filthy
5.2.1. Quote or Evidence (Including page #)
5.2.1.1. Lives in a run down house and loves to drink
6. TEXTUAL ISSUES OR CONCERNS LINKED TO THIS CHARACTER
6.1. Racism
6.2. Injustice