WPCTE: Media Literacy in the Modern K-12 School
by
The Media Spot, LLC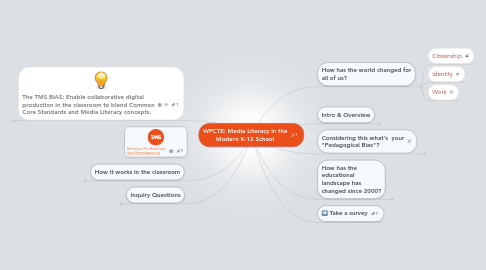 0.0
stars -
0
reviews range from
0
to
5
The Media Spot's bias: Use Project-based Units to blend DMLE with CCSS and scaffold basic tech skills. To simplify the infusion of DMLE within complex NYCDOE environments, my own bias has been towards what I call "production-based media literacy", which recommends that schools: Engage new media resources ("technology"), ways of communicating, and digital literacy skills through content-driven student productions, and Layer core competencies of media literacy onto existing learning objectives during the production process. Each year students arrive at schools with greater operational capacity for working with digital tools. Nonetheless, schools must develop and refine a simple scope and sequence for assessing the acquisition of basic skills to lower the cost of entry for classroom digital production over time. This should be designed to minimize instructional time is spent introducing and reinforcing operational skills that students will gain fluency in through use within academic productions. The goal should be to scaffold the most transferrable skills possible to allow them to eventually independently adapt to new tools as they emerge.
Project Based Learning
Flexible Curricula
Activate core curriculum through digital media production & critical media analysis
Establish adaptive digital skills early to minimize skill training in the future.
Content area teachers leverage student digital skills
Digital tools and technology won't save education, but teachers who understand how to open up their practice to real world flow of communication & info that excites students might.
Acknowledge the range of need/starting points. My hope is that you may recognize your situation along this spectrum, and see it a little more clearly within the big picture.
How has the world changed for all of us?
Citizenship
Citizenship: New modes of cultural exchange, commerce and the means of informing oneself, especially vital to democracy have resulted in a new "Digital Citizenship"
Identity
Identity: Sense of self is cultivated through a combination of interpersonal and online interaction increasingly broadcast and archived in the public sphere.
Work
Work: Basic digital operational and communication skills are required throughout most levels of the modern workforce.
Recommendation: Simplify the world in ways that confirm your pedagogical biases.
My reflection on App Explorations:
Sample Planning Resources
How they were planned or differentiated? How they encouraged metacognition & higher order thinking? How they were used to assess student skill?
Common Challenges: Lack of Time and Tech Support. Even in schools most enthusiastic about DML, lack of time is an inevitable obstacle in this process. As simple and efficient as a framework for DMLE development can be, schools have to make room for additional administrative, planning and instructional time, and account for technical support issues. This will take less time as staff internalize media literacy concepts, become more fluent with digital tools (along with students), and get comfortable matching those tools and concepts with their accumulating familiarity with the CCSS. Meanwhile, schools have to account for and address the following common questions to move towards efficiency: How and when will professional development occur to raise staff digital literacy to meet new and emerging digital classroom resources? Who will lead that process? How and when will professional development occur to help staff layer digital and media literacy onto CCSS-curricula? Who will lead that process? What is the scope and sequence for developing student digital literacy skills alongside traditional literacy skills? Who will teach those skills, how will they be assessed, and where will it fit in your program schedule? Who will keep technology resources working and make purchasing decisions to enable all of the above?  
Inquiry Questions
Theme: Teachers have a lot on their plates. This is not mandated. Why learn something new if you're not forced to?
Discuss where this might fit in your curricula...
What support and training would you need to make this work in your classroom next year?
Where should training for teachers in digital and media literacy take place? Pre-service, and in-service?
How do you think schools should transform to reflect changes in the media landscape? What are essential practices and content from traditional curricula that fit best with media literacy concepts? What needs to be accounted for in the digital age? Where is the balance?
How has the educational landscape has changed since 2000?