IT Restructure
by polly rt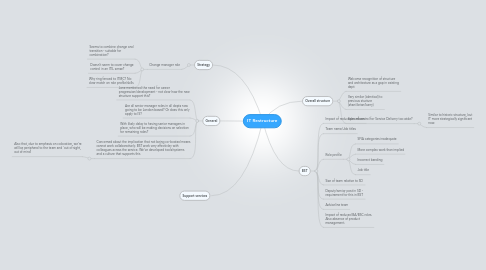 1. BST
1.1. Impact of reduced numbers
1.2. Team name/Job titles
1.3. Role profile
1.3.1. SFIA categories inadequate
1.3.2. More complex work than implied
1.3.3. Incorrect banding
1.3.4. Job title
1.4. Size of team relative to SD
1.5. Deputy/senior post in SD - requirement for this in BST
1.6. Adviceline team
1.7. Impact of reduced BA/BSC roles. Also absence of product management.
2. Support services
3. General
3.1. Jane mentioned the need for career progression/development - not clear how the new structure support this?
3.2. Are all senior manager roles in all depts now going to be London based? Or does this only apply to IS?
3.3. With likely delay to having senior managers in place, who will be making decisions on selection for remaining roles?
3.4. Concerned about the implication that not being co-located means cannot work collaboratively. BST work very effectivley with colleagues across the service. We've developed tools/systems and a culture that supports this
3.4.1. Also that, due to emphasis on colocation, we're will be peripheral to the team and 'out of sight, out of mind'
4. Strategy
4.1. Change manager role
4.1.1. Seems to combine change and transition - suitable for combination?
4.1.2. Doesn't seem to cover change control in an ITIL sense?
4.1.3. Why ring fenced to ITMC? No clear match on role profile/skills
5. Overall structure
5.1. Welcome recognition of structure and architecture as a gap in existing dept
5.2. Very similar (identical) to previous stucture (shani/brian/barry)
5.3. Span of control for Service Delivery too wide?
5.3.1. Similar to historic structure, but IT more strategically significant now.