Scout
by Stephanie Grant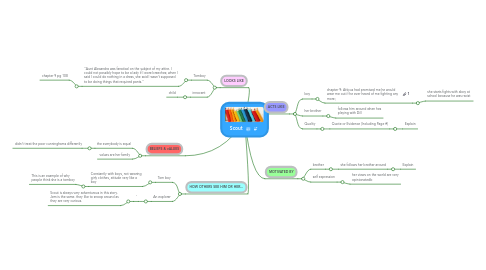 1. BELIEFS & vALUES
1.1. the everybody is equal
1.1.1. didn't treat the poor cunninghams differently
1.2. values are her family
2. ACTS LIKE
2.1. boy
2.1.1. chapter 9: Atticus had promised me he would wear me out if he ever heard of me fighting any more;
2.1.1.1. she starts fights with aboy at school because he was racist
2.2. her brother
2.2.1. follows him around when hes playing with Dill
2.3. Quality
2.3.1. Quote or Evidence (Including Page #)
2.3.1.1. Explain
3. MOTIVATED BY
3.1. brother
3.1.1. she follows her brother around
3.1.1.1. Explain
3.2. self expression
3.2.1. her views on the world are very opinionatedb
4. HOW OTHERS SEE HIM OR HER...
4.1. Tom boy
4.1.1. Constantly with boys, not wearing girly clothes, attiude very like a boy
4.1.1.1. This is an example of why people think she is a tomboy
4.2. An explorer
4.2.1. '
4.2.1.1. Scout is always very adventurous in this story. Jem is the same. they like to snoop around as they are very curious.
5. LOOKS LIKE
5.1. Tomboy
5.1.1. "Aunt Alexandra was fanatical on the subject of my attire. I could not possibly hope to be a lady if I wore breeches; when I said I could do nothing in a dress, she said I wasn't supposed to be doing things that required pants."
5.1.1.1. chapter 9 pg 108
5.2. innocent
5.2.1. child