What have you learnt about technologies from the process of constructing this product?
by aidan richardson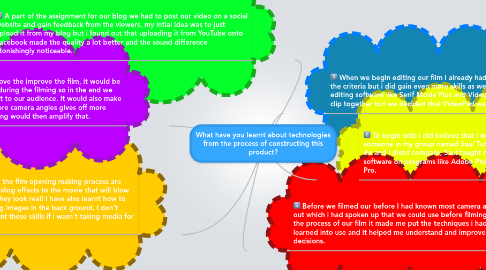 1. When we begin editing our film I already had good skills within the criteria but i did gain even more skills as we had used many editing software like Serif Movie Plus and VideoPad to edit our clip together but we decided that VideoPad was the best to use.
2. To begin with i did believe that i was half decent at editing until someone in my group named Saul Turner showed me what he can do and i didnt compare, Saul taught me how to use most of the software on programs like Adobe Photoshop and Adobe Premiere Pro.
3. A part of the assignment for our blog we had to post our video on a social website and gain feedback from the viewers, my intial idea was to just upload it from my blog but i found out that uploading it from YouTube onto Facebook made the quality a lot better and the sound difference atonishingly noticeable.
4. Some skills I had learned during the film opening making process are adding clips together as well as adding effects to the movie that will blow your mind when you see them as they look real! I have also learnt how to create a title sequence with moving images in the back ground. I don't believe that i would have ever learnt these skills if i wasn't taking media for an A-level.
5. Before we filmed our before I had known most camera angles inside out which i had spoken up that we could use before filming but during the process of our film it made me put the techniques i had already learned into use and it helped me understand and improve these my decisions.
6. If there was anything i could to improve the improve the film, it would be that we should have taken more shots during the filming so in the end we would have more of a variety to present to our audience. It would also make the editing more extravagant as the more camera angles gives off more emotion and feeling which adding editing would then amplify that.