Search Engine Optimization (SEO)
by Wei Xiang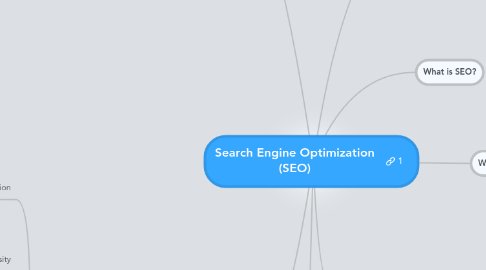 1. Why SEO?
1.1. Achieve Top ranking
1.2. Increase Web Traffic
1.3. Increase Revenue
2. What is SEO?
2.1. The art and science of helping websites increase their visibility in major Search Engines
3. How does Search Engine Operates?
3.1. Crawling
3.1.1. to find and crawl web pages.
3.2. Indexing
3.2.1. processes your pages based on SE specific algorithms for indexing into large database.
3.3. Query Processor
3.3.1. using complex weighting algorithms, it matches and retrieves search results based on the keywords entered by users.
4. Factors Affecting Page Ranking
4.1. Keyword Selection
4.1.1. The relevance of the keyword to user's seach and the relevance of the page content to the keywords
4.1.2. The more specific the keywords is, the easier to gain higher ranking
4.2. Keyword Density
4.2.1. The number of times a keyword appear on the website can contribute to the page ranking
4.3. Inbound links
4.3.1. What is inbound links?
4.3.1.1. Links from a homepage of external sites
4.3.1.2. Links from non-reciprocal websites
4.3.1.3. Links from authority pages in the topical community
4.3.2. The quality and quanity of inbound links can contribute to the page ranking.
4.3.3. Anchor text?
4.3.3.1. Text with clickable links
4.3.3.2. Inbound links with anchor text that contains keywords can help boost page ranking
4.4. HTML page title
4.4.1. page title containing keywords can contribute to page ranking as the title will get maximum exposure on the search result page
4.4.1.1. Title must be clear and compelling summary of the page
4.5. Age of Domain name
4.5.1. Newer domain have a much thougher time making up the rank than older domain
4.5.1.1. Think twice before replacing old domain
4.6. Site Authority
4.6.1. Some sites are recognised for its authenticity on certain topic.
4.7. Page URL & Meta Tags (keywords, description)
4.7.1. This appears in search result
4.8. Image ALT Tags
4.8.1. Relevent description of image can helps in image searching
4.9. Traffic and CTR
4.9.1. Good Traffic and CTR indicates that the page is relevant and popular
4.9.1.1. Important to improve bounce rate, average visit duration and CTR
5. How is SEO related to Web Analytics
5.1. It is an actionable strategy in response to the result of WA.
5.2. It increases PageViews, New Visitors count, Search traffic count, keywords bounce rates, etc
5.3. Use WA to identify new keywords landing page opportunities.
5.3.1. Add those keywords into your top priority list and create landing pages for them to bring in the traffic
6. How to know if SEO is a success
6.1. Increase in traffic coming from various SEs.
6.2. Increase number of pages traffic coming from SEs
6.3. Increase keyword search popularity and volume
6.4. Increase number of inbound links
7. Keyword Research
7.1. It is the practice of identifying which phrases are used on search engines when people are looking for information.
7.1.1. Usually includes finding both the search volume and relative competitiveness of the terms.
7.2. Why is it important?
7.2.1. Helps you understand visitors' intentions. Enables you to reach not just any visitors but the right kind of visitors Enables you to predict shift in demand and respond to changing market conditions
7.3. Two Strategies
7.3.1. Optimizing for Traffic - Usually for publishing and advertising businesses - Revenue primarily based on pageviews and visitors number.
7.3.2. Optimizing for Conversion - Usually for e-commerce / service webstores - Revenue based on sales and subscriptions
7.4. The more words in a keyword phrase usually the easier to get rank higher since there is less competition.
7.5. Example : A person searching for "shoes" is probably browsing, and not ready to buy. On the other hand, someone searching for "best price on Air Jordan size 12" is likely prepared to buy. Which is better? Browse or Buy?
7.6. Go for long-tailed keywords with High popularity / Lower Competition / High Relevance
7.6.1. Using AdWords keyword tool
7.7. find keywords that are...
7.7.1. Heavily searched by visitors (Popularity) Closely related to your conversion goals (Relevance) Reasonable targeted by competitors (Competition)
7.7.2. for webstore
7.7.2.1. Use terms like buy, prices, compare in the keyword phrase. Eg. 'buy casio watch' should get better quality traffic than 'casio watch magazine' Lower traffic but more targeted to visitor looking to buy
7.7.3. Match keywords and landing pages content Page content must contain information relevant to the keyword search term.
7.7.3.1. how?
7.7.3.1.1. Need to first understand visitors' search intent