Search Engine Optimization (SEO)
by lim yi han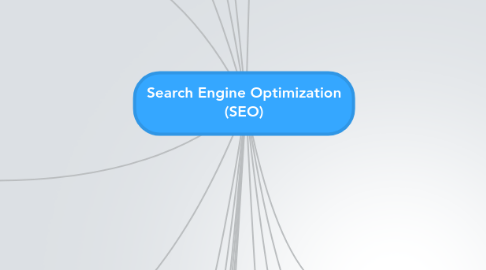 1. What is SEO?
1.1. SEO is the art and science of helping websites increase their visibility in major Search Engines
2. Why SEO?
2.1. Achieve top ranking
2.2. Increase web traffic
2.3. Increase revenue
3. Type of SEO?
3.1. Organic SE (free)
3.1.1. How SEO operates?
3.1.1.1. Indexer
3.1.1.1.1. processes your pages based on SE specific algorithms for indexing into large database.
3.1.1.2. Spiders
3.1.1.2.1. known as a crawler or robot, to find and crawl web pages.
3.1.1.3. Query Processor
3.1.1.3.1. using complex weighting algorithms, it matches and retrieves search results based on the keywords entered by users.
3.2. Paid SE
4. How SEO return search result from keyword search?
4.1. Search engines has large databases (indices) that web users query to find websites.
4.2. When you visit Google and type in a keyword, you are simply performing a database query.
4.3. Each search engine has its own algorithm of ranking websites within its database.
4.4. The higher the website ranking for a particular keyword search, the better its search result.
5. Factor affecting SEO?
5.1. Keyword selection
5.2. Keyword Density
5.3. Inbound links
5.4. Inbound links anchor text
5.5. HTML Page Title
5.6. Age of Domain name
5.7. Site Authority
5.8. Page URL & Meta Tags
5.9. Image ALT tags
6. What are the don'ts in SEO?
6.1. Cloaking
6.2. Duplicate Content
6.3. Keyword stuffing
6.4. Invisible text
7. How to check page ranking?
7.1. Higher page ranking does not guarantee high Google rank
8. How SEO is related to WA?
8.1. It is an actionable strategy in response to the result of WA.
8.2. It increases PageViews, New Visitors count, Search traffic count, keywords bounce rates, etc.
8.3. Use WA to identify new keywords landing page opportunities.
8.4. Add those keywords into your top priority list and create landing pages for them to bring in the traffic.
9. How to track SEO success?
9.1. Increase in traffic coming from various SEs.
9.2. Increase number of pages traffic coming from SEs
9.3. Increase keyword search popularity and volume
9.4. Increase number of inbound links
10. What is keyword research?
10.1. identifying which phrases are used on search engines when people are looking for information
10.2. finding both the search volume and relative competitiveness of the terms
11. why keyword research?
11.1. Helps you understand visitors' intentions.
11.2. Enables you to reach not just any visitors but the right kind of visitors
11.3. Enables you to predict shift in demand and respond to changing market conditions
12. Type of strategies used by keyword research?
12.1. Optimizing for Traffic
12.2. Optimizing for Conversion
13. How to choose the right keywords?
13.1. Go for long-tailed keywords with High popularity / Lower Competition / High Relevance
13.2. Heavily searched by visitors (Popularity
13.3. Closely related to your conversion goals (Relevance)
13.4. Reasonable targeted by competitors (Competition)
13.5. Use terms like buy, prices, compare in the keyword phrase.
13.6. Eg. 'buy casio watch' should get better quality traffic than 'casio watch magazine'
13.7. Lower traffic but more targeted to visitor looking to buy
13.8. Match keywords and landing pages content
13.8.1. how?
13.8.1.1. Need to first understand visitors' search intent
14. type of search intent
14.1. Transactional Searches
14.2. Creating a Gmail account
14.3. Finding the best local cuisine in hungrygowhere.com
14.4. Navigational Searches
14.5. Informational Searches
15. Factors affecting page ranking
15.1. Inbound links
15.1.1. Links from a home pages of external sites
15.1.2. Links from non-reciprocal sites
15.1.3. Links from authority pages in the topical community
16. What kind of link matters to SE?
16.1. External links matters more than internal links
16.2. Links from more important, popular, trusted sites get more value
16.3. Anchor Text
16.4. If your website is linked to a spam site, SE will treat your website as a likely spam site too.
16.5. Be careful and selective which sites you link to
16.6. Sites that earns additional links over time score well with SE
16.7. A sign of Freshness of website
17. How to build links?
17.1. Create good original content and people will want to link to you.
17.2. Personally request for link exchanges to relevant sites or submit sites to directories.
17.3. Create Facebook page to market your site
17.4. Manual request for link exchange
17.5. Submit sites to directories
17.6. Post twitter, tumbler, instalgram
17.7. Participate actively in discussion forums with backlinks in forum signatures
17.8. Create blogs that provide valuable information
17.9. Post videos in youtube with backlinks
17.10. Examine & study competitors' backlinks
18. A/B Testing
18.1. What is A/B Testing
18.1.1. you have two versions of an element (A and B) and a metric that defines success. To determine which version is better, you subject both versions to experimentation simultaneously. In the end, you measure which version was more successful and select that version for real-world use
18.2. What to Test?
18.2.1. The call to action's (i.e. the button's) wording, size, color and placement
18.2.2. Headline or product description
18.2.3. Form's length and types of fields
18.2.4. Layout and style of website
18.2.5. Product pricing and promotional offers
18.2.6. Images on landing and product pages
18.2.7. Amount of text on the page (short vs. long)
18.3. How to create first A/B Testing
18.3.1. Replace the element to be tested before the page loads
18.3.2. Redirect to another page
18.4. Dos/Don's?
18.4.1. Do
18.4.1.1. Know how long to run a test before giving up.
18.4.1.2. Show repeat visitors the same variations.
18.4.1.3. Make your A/B test consistent across the whole website.
18.4.1.4. Do many A/B tests.
18.4.2. Don'ts
18.4.2.1. never ever wait to test the variation until after you've tested the control. Always test both versions simultaneously.
18.4.2.2. Don't conclude too early
18.4.2.3. Don't surprise regular visitors
18.4.2.4. Don't let your gut feeling overrule test results
18.5. Tools for A/B Testing
18.5.1. Google Website Optimizer
18.5.2. A/Bingo and Vanity
18.5.3. Visual Website Optimizer
18.5.4. Unbounce and Performable
18.5.5. Vertster, SiteSpect, Webtrends Optimize and Omniture's Test&Target
18.6. Pro's & Cons
18.6.1. Pros
18.6.1.1. Fast Of all the test types, A/B is way, way fast.
18.6.1.2. Tests reality, not theory
18.6.1.3. Quantifiable
18.6.1.4. Accurate
18.6.2. Cons
18.6.2.1. Can Hurt Web Site Results
18.6.2.2. Missing the "Why"
18.6.2.3. Not Predictive