WindowsPlast ICT 2014
by Justine Delporte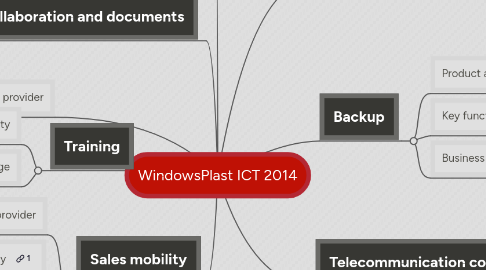 1. Product and provider
1.1. http://www.articulate.com/products/storyline-overview.php
1.2. product: storyline
1.3. Provider:articulate
2. Sales and customer support and tracking
2.1. Product and provider
2.1.1. http://www.zendesk.com/demo
2.1.2. Product: Zendesk
2.1.3. Provider: Zendesk
2.2. Key functionality
2.2.1. The program provides tools for better customer service. For exemple, customers can easily use self-service options.
2.3. Business advantage
2.3.1. It's easy, it's flexible and it's efficient for companies
3. Backup
3.1. Product and provider
3.1.1. http://www.belgacom.be/nl/zelfstandigen-en-kmos/producten-en-diensten/ict--cloud-oplossingen/veiligheid-in-de-cloud/becloud-pc-backup?page=t_hbs_backup&mc_id=adw_ebu_ict_2013&nichn=cpc&nisrc=google&nicam=becloud_backup_nl&niseg=nb&nipkw=ict%20backup&gclid=CJ_jycPoqbcCFSXLtAod3yUA7w
3.1.2. Provider: Belgacom
3.1.3. Product: Becloud PC Backup
3.2. Key functionality
3.2.1. Thanks to Becloud PC Backup you have a reliable and automatic backup of your files.
3.3. Business advantage
3.3.1. With Becloud PC backup, businesses don't need to invest in hardware or specialized IT staff to install, configure and manage your backup solution.
4. Collaboration and documents
4.1. Product and provider
4.1.1. Provider: Colt
4.1.2. Product: Ceano
4.1.3. http://www.colt.net/uk/en/converged-ict-services/file-sharing-and-collaboration-en.htm
4.2. Key functionality
4.2.1. Distribute and share content collaboratively and securely
4.3. Business advantage
4.3.1. Ensuring data is secure but also accessible to colleagues
4.3.2. Share, sync and manage files across multiple platforms and mobile devices
5. Mail and instant messaging
5.1. Product and provider
5.1.1. Provider: MIOR, ICT services
5.1.2. Product: Office 365
5.1.3. http://www.automotivecampusnl.com/index.php/campus-community/overzicht-bewoners/article/17-mior-ict-services
5.2. Key functionality
5.2.1. Brings together cloud versions of communication and collaboration products
5.2.2. For companies of all sizes
5.2.3. saves time, money and free up valued resouces
5.3. Business advantage
5.3.1. A financially backed 99.9 percent uptime guarantee and enterprise-level geo-redundancy
5.3.2. disaster recovery, and robust security and privacy controls and standards.
6. Telecommunication cost
6.1. Product and provider
6.1.1. http://www.green-xs.nl/
6.1.2. Product: mobile controll
6.1.3. Provider: Green XS Telecom and ICT Solutions
6.2. Key functionality
6.2.1. When a company doesn't see the trees through the forest anymore concerning their mobile subscriptions , associated equipment and costs by department or employee and when the company wants that control back, this system is very handy.
6.3. Business advantage
6.3.1. The system significantly reduces costs and increases efficiency.
7. Sales mobility
7.1. Product and provider
7.1.1. Provider: gen-i
7.1.2. product:mobility AMS
7.1.3. http://www.gen-i.co.nz/services/Pages/Mobility-AMS.aspx
7.2. Key functionality
7.2.1. Gen-i AMS is a mobile messaging service that converts paper forms into mobile applications, enabling field staff to send, receive and share business data any time anywhere.
7.3. Business advantage
7.3.1. Improve productivity, potentially achieving the same results with less FTE's
7.3.2. Allow workers to spend more time out of the office, where they can spend more time with customers, and less time on administration back at the office
8. Training
8.1. Key functionality
8.1.1. It's an e-learning authoring software for beginners and experts
8.2. Business advantage
8.2.1. No programming is needed. it's quick, efficient and simple to handle.