Pbworks
by Pim Moon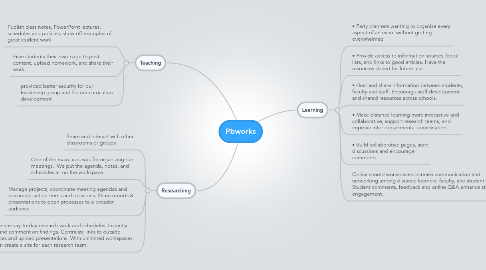 1. Learning
1.1. • Party planners wanting to organise every aspect of an event without getting overwhelmed
1.2. • Provide access to information sources, book lists, and links to good articles. Have the resources stored for future use.
1.3. • Host and share information between students, faculty and staff. Encourage staff development and shared resources across schools.
1.4. • Make distance learning more interactive and collaborative, support research teams, and improve inter-departmental coordination.
1.5. • Build collaborative pages, start discussions and encourage comments.
1.6. Online shared workspaces increase communication and networking among distance learners, faculty, and student groups. Student comments, feedback and online Q&A enhance student engagement.
2. Teaching
2.1. Publish class notes, PowerPoint lectures, schedules and policies; show off examples of great student work
2.2. Give students their own page to post content, upload homework, and share their work.
2.3. provided better security for our leadership group and for our curriculum development
3. Researching
3.1. Share and interact with other classrooms or groups
3.2. One of the main uses was for organizing our meetings. We put the agenda, notes, and schedules all on the workspace
3.3. Manage projects, coordinate meeting agendas and document action-items and decisions. Share reports & presentations to open processes to a broader audience.
3.4. Coordinate day-to-day research work and schedules. Instantly share and comment on findings. Centralize links to outside resources and upload presentations. With unlimited workspaces, you can create a site for each research team.