MSLS Alumni Gathering
by
Andrew Outhwaite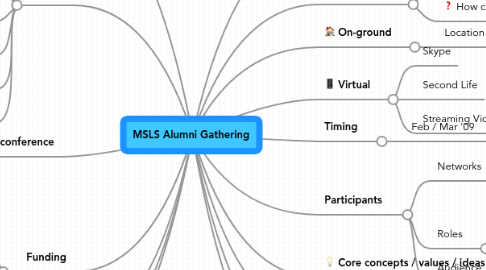 0.0
stars -
0
reviews range from
0
to
5
MSLS Alumni Gathering
Vision
What were key elements of the best gatherings you have participated in?
What would consitute a principled definition of success?
What would consitute healthy and sustainable gathering, individually, socially, ecologically?
Outcomes
What is the vision of the impact we would like to have?
How could this gathering be the catalyst / leverage point for global sustainability? Why are gatherings so important?
On-ground
Location
Virtual
Skype
Second Life
Streaming Video
Timing
Feb / Mar '09
Participants
Networks
Roles
Audience
Core concepts / values / ideas
e.g. Fundamental Needs, Backcasting...
What are the concepts we want to explore and messages we want to communicate?
Culture
What characterises the healthy culture we would want to create amongst the organising team, and the participants?
e.g. individual responsibility, collaboration, dropping of ego and attachment
Technology / Logistics
What are the critical things we must have to support / invoke the outcomes we desire?
e.g. beds, power, wireless web, video cameras, chairs
Processes / Social Technologies
e.g. OST, World Cafe, Action Inquiry
Next Actions
Team
Australia
Sweden
London
Alberta
What skills are we missing / must we develop to make this an effortless success
What nations / cultures must we have represented onorganising group
SD conference
People
Logistics
Location
Streams?
Funding
applications for SD conference
sponsorship
Role of stratleade
Risks
e.g. plane travel clashes with values
Untitled
Opportunities
e.g. linked to local sustainability intitiatives, engaging with other social networks
Planning tools / process
Monthly calls?