Samina's PLN focus: What causes social media resistance? Is it the perception of a 'dark side' of social media? Are there distinct social media personality types?
by
Samina Hossain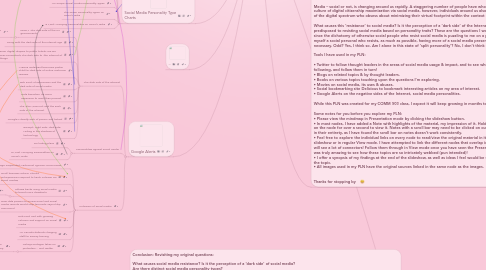 0.0
stars - reviews range from
0
to
5
Please view in Presentation mode!
I am following on Twitter thought leaders in the area of social media, its uses, abuses & challenges posed to society from it. I've linked back to books written by these individuals, as well to articles in which they have been referenced by others.
Following:
Results from Google Alerts setup for: - Criticisms of Social Media - The Dark Side of the Internet - Personalities Against Social Media
The dark side of the internet
Blogs by thought leaders
This article & embedded video is an example of the other end of the 'anti' social media spectrum - here, the social media bashing is not so justified. A clearly 'disillusion' restaurant owner & chef cries wolf about 'unfair' reviews on social media, but as Chef Gordon Ramsay witnesses, the 'monster' unleashed may not be social media here.
Susan Cain offers some interesting perspectives:   The 20th century was the advent of culture of personality. The qualities that became important in this era were magnetism & charisma. Self help books written during this time were largely about - How to Win Friends & Influence People She says that the role models of this era are those who are really great sales people The precedent set from the above characteristics of the 20th century is what Cain says is what has become our cultural inheritance today.  
Sherry Turkle
Clay Shirky
Damon Brown
Susan Cain
Social bookmarking tool Delicious to bookmark articles related to social media (non) usage.
This is a fascinating article on possible ways to permanently or temporarily break away from social media. Main takeaways: Web 2.0 Suicide machine: You can attempt to 'wipe out' much of your virtual footprint using this app. New York Times article illustrates how many young people use the "Deactivate" feature on Facebook as a means of social media hiatus, as they cannot strike a balance between 'real' and 'virtual' life.
This article is a merry debate on whether social media is a 'stupid' concept and whether all media is indeed social, as well as whether internet enabled technologies provide something that older forms of media did not. Scott Berkun's position (link his article Calling Bullshit on Social Media on following node) is that all media is social, and has been from the advent of time in the form of families, communities, etc. The author of this article, Joshua-Michele Ross) argues more along the lines of Clay Shirky, in that what's new about social technology is the power it lends to 'groups' in forming, propagating & collaborating. Ross says that "the Internet, and social technologies in particular, do not create much that is new in the way of content (or even human interaction as Berkun notes) but the medium massively accelerates our ability to create, share, connect and collaborate." Ross agrees with the generally accepted evils of social media including the ease of propagation of evil on social media stemming from peoples ill intentions (where the intentions alone have lived in humans for centuries). He does however defend social media by saying "I would also argue that the democratic promise of these tools – the promise that people can connect with each other without an intermediary ... holds the possibility of distributing power more evenly. If there is one root problem in much of this world – it is the concentration of power wielded by a small minority. We should celebrate any technology that lowers barriers to communication."
2011 Study by IBM on social media adoption by companies.
Article offers tips on how to get the most out of social media for businesses.
Article covered the now defunct By/Association 'anti-social' social media. The idea was to foster introductions between creative types who are looking to expand their social horizons, and that members would be able to organize and host events through the service, similar to what Meetup.com does.
This work is licensed under Creative Commons Attribution-NonCommercial-ShareAlike 3.0 Unported License.
Google search results on Social Media Personality Types
Links to Jen & Sean's PLNs
This node is dedicated to my fellow MACTers links to their PLNs - the three of us started off with a similar thread of interest for our topics, and then branched out.
Welcome to Samina's Personal Learning Network (PLN) Topic: "Social Media: The Dark Side & Why People Resist It". Media – social or not, is changing around us rapidly. A staggering number of people have whole heartedly embraced the culture of digital citizenship maximization via social media, however, individuals around us also come from the opposite end of the digital spectrum who obsess about minimizing their virtual footprint within the context of social media. What causes this 'resistance' to social media? Is it the perception of a 'dark side' of the Internet? Are individuals predisposed to resisting social media based on personality traits? These are the questions I would like to explore in my PLN, since the dichotomy of otherwise social people who resist social media is puzzling to me on a personal level - I consider myself a social personal who resists, as much as possible, having more of a social media presence than is absolutely necessary. Odd? Yes, I think so. Am I alone in this state of 'split personality'? No, I don't think so. Let us explore! Tools I have used in my PLN: • Twitter to follow thought leaders in the areas of social media usage & impact, and to see who these folks are following, and follow them in turn! • Blogs on related topics & by thought leaders. • Books on various topics touching upon the questions I'm exploring. • Movies on social media, its uses & abuses. • Social bookmarking site Delicious to bookmark interesting articles on my area of interest. • Google Alerts on the negative sides of the Internet, social media personalities. While this PLN was created for my COMM 503 class, I expect it will keep growing in months to come! Some notes for you before you explore my PLN: • Please view the mindmap in Presentation mode by clicking the slideshow button. • In most nodes, I have added a Note with highlights of the material, my impression of it. Hold mouse over the Note symbol on the node for over a second to view it. Notes with a scroll bar may need to be clicked on outside of Presentation mode to in their entirety, as I have found the scroll bar on notes doesn't work consistently. • Feel free to explore the individual links on every node to read/view the original material in its entirety, either during the slideshow or in regular View mode. I have attempted to link the different nodes that overlap in content or authorship – you will see a lot of connectors! Follow them through in View mode once you have seen the Presentation – for me personally, it was truly amazing to see how these topics are so intricately webbed (pun intended)! • I offer a synopsis of my findings at the end of the slideshow, as well as ideas I feel would be useful for further research on the topic. • All images used in my PLN have the original sources linked in the same node as the images. Thanks for stopping by =)