Window Plast ICT 2014 (Sara Romagnoli)
by Sara Romagnoli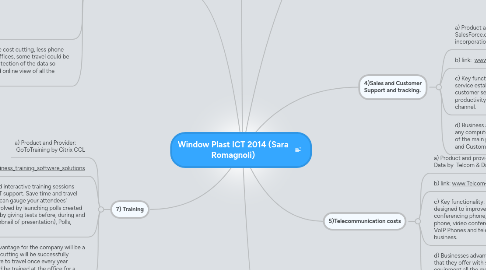 1. 1)Mail and Instant Messaging
1.1. a) Product and provider: Syhmantec by Symantec Corporation
1.2. b) Website link: http://www.symantec.com/products-solutions/families/?fid=symantec-cloud
1.3. c)Key functionality: Symantec.cloud services secure and manage information stored on endpoints and exchanged through email, Web, and IM interactions. Instant Messaging Security.cloud helps companies that communicate externally using Unified Communications and Instant Messaging platforms to meet the challenges of compliance and network security. EMAIL MANAGEMENT Managing email infrastructure has become increasingly complex and costly, requiring significant resource investment and expertise. DATA PROTECTION Protect your critical data by automatically streaming it, encrypted, to Symantec's secure, off-site data centers.
1.4. d)Business advantages: with this solution we could have cost cutting, less phone bills and more instant communication between all the offices, some travel could be avoid because of this other form of communication. Protection of the data so access coul be provide easily. Secure sharing model and online view of all the activity for all the empployee
2. 2) Collaboration and documents:
2.1. a) Sharefile.com by Citrix Sharefile
2.2. b) www.sharefile.com
2.3. c) Key functionality: this program allowed the company to share document and file in a secure way. The product is protected and certified by "trustE" and "BBBOnline" two certificate of safety.
2.4. d)Business Advantages: Share documents of any size or media type via an SSL-secure connection embedded in your company's website. The ShareFile graphic experts will custom configure a login box for you and your employees, colleagues and clients to use. They'll match your existing site decor, logo, fonts and colors. This will enhance and extend the visual theme of your homepage to your business transactions. Every time others log on, you'll be strengthening your brand image. So again also the advantage of the costcutting, the sharing model in the company and an overwiev for all the employees of the documents. All protected of course. So all the info could be shared also with the Romania.
3. 3)Backup
3.1. a) Product and provider: Mozy by MozyCorporation
3.2. b) link : www.moby.com
3.3. c) Key functionality: All the personal data are safe and the server provide back up for every kind of document. All the business information will be protected. This server is the leader in the sector.
3.4. d) Business advantages: now the company will be able to do backup and rely on other ict people and don't put more work in their employes, security access is guaranteed from everywehre and in this case you won't have any data loss anymore.
4. 4)Sales and Customer Support and tracking.
4.1. a) Product and provider: SalesForce.com by Sales force incorporation.
4.2. b) link: www.salesforce.com
4.3. c) Key functionality: Salesforce.com's customer service software as a service establishes the industry standard for call center CRM and customer self-service. You get the ease and functionality to maximize the productivity of every agent and deliver customer satisfaction across every channel.
4.4. d) Business advantages: SaaS applications are available from any computer or any device. lower initial cost (remember that one of the main problem of this company is the exceed of cost), CRM and Customers tracking system.
5. 5)Telecommunication costs
5.1. a) Product and provider: Telcom Data by Telcom & Data inc.
5.2. b) link: www.Telcom-data.com
5.3. c) Key functionality: Telcom & data offers thousands of telecommunications products that are designed to improve communications. Telcom & data offers business phone systems, IP PBX, conferencing phone, VoIP business phone systems, conferencing system, VoIP conferencing phone, video conferencing systems, conference call systems, video conferencing solutions, VoIP Phones and telecom products for companies that can help measurably improve their business.
5.4. d) Businesses advantages: with their special system of conference call that they offer with special sound tracking and audio conferencing equipment all the meeting could be made by phone conference cutting the cost of travelling and phone bills because of the special offer that they have.
6. 6)Sales Mobility
6.1. a) Product and Provider: Oracle by Oracle.com
6.2. b) link: www.oracle.com
6.3. c) Key functionality: Now your sales team can take your CRM system with them everywhere – and easily access and update the critical information they need, when they need it. Oracle's Sales Mobility Solutions will change the game for your mobile sales workers. The main servives this solution offers are: - Providing unprecedented ease of use for mobile sales teams - Driving increased user adoption, efficiency, and performance by leveraging mobile devices to call, message, and navigate to your customers - Automatically keeping your CRM data consistent and up to date
6.4. d) Businesses advantages: efficient mobile workforce means to access key real-time customer data prior to a customer meeting, to monitor key performance metrics such as bookings, revenue, spend and customer satisfaction on a constant basis, to perform certain day-to-day tasks without having to wait to return to the office, and to access insightful analytic reports when there are exception business conditions and thanks to Oracle the company could have it all.
7. 7) Training
7.1. a) Product and Provider: GoToTraining by Citrix CCL
7.2. b) link: http://www.gotomeeting.com/fec/training/business_training_software_solutions
7.3. Key Functionality:GoToTraining online training software lets you hold interactive training sessions with up to 200 people – right from your desk without the need for IT support. Save time and travel costs by moving your training program online. During a training you can gauge your attendees' interest and participation using dashboard charts and keep them involved by launching polls created either in advance or on the fly. Assess what attendees have learned by giving tests before, during and after your training. Some tools are Dashboard, Audience view (thumbnail of presentation), Polls, Tests.
7.4. d) Businesses advantage: obviously the main advantage for the company will be a team trained and prepared with high skills. Cost cutting will be successfully reached because of the ICT team that won't have to travel once every year anymore for an expensive rtaining camp. IT could be trained at the office for a lower price.