PS29 School Wide Digital Architecture
by
The Media Spot, LLC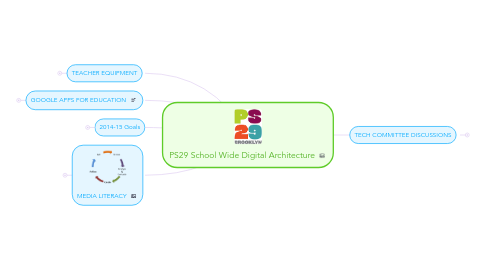 0.0
stars - reviews range from
0
to
5
TEACHER EQUIPMENT
Laptops
Digital Displays
Laptop carts?
Intranet for staff and student communications. A suite of "cloud-based" tools that allow for collaboration and a single location for important school resources. Powerful tools for you to use privately or in your own way for your own practice. Teaching the use of these tools through common staff tasks.
Gmail (@ps29bk.org)
like Word but online "in the cloud" live collaboration on documents live feedback for colleagues or students
Google Sites
Google Calendar
NO Gmail in short term plans
Define the "Why?"
Working backward from the skills kids will need to conduct independent research, synthesize information, execute media production projects (media literacy, critical thinking as authors combining text, images and audio); And to express themselves through public/private responsibly (digital citizenship)
Est. Baseline Digital Skills & Tools for Staff
Staff becomes more "MEDIA LITERATE" by developing useful digital projects, tasks & practices
Support all of the above through small group PD
Establish Tech Support
TECH COMMITTEE DISCUSSIONS
Public Website (Brochure)
Tech Support
Room Setup
MEDIA LITERACY
Extends "literacy" to new technologies and forms of media
Skills: Technical & Critical Thinking
Facilitating a media literate culture in the school