PS29 School Wide Digital Architecture
by
The Media Spot, LLC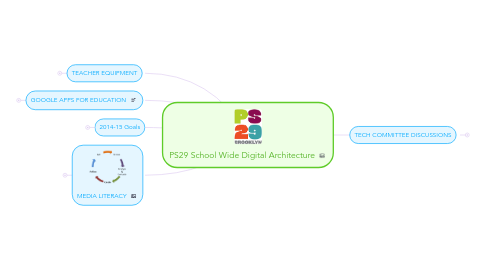 0.0
stars - reviews range from
0
to
5
TEACHER EQUIPMENT
Laptops
Chromebooks (23), Encourages use of Google Apps (requires it), Build community around THIS device, teachers in K-2, projector issues?
MacBook Air (22), More production power than Chromebook; More potential maintenance than Chromebook, Reserve these for check-out technology or class use?, Tech Cluster, Teachers?, teachers in 3-5, specialty teachers
Digital Displays
Interactive White Boards (Smart)
Apple TV or Chromecast (?)
Document cameras
Projectors & Pull-down Screens
Flat Screen TVs?
Laptop carts?
Intranet for staff and student communications. A suite of "cloud-based" tools that allow for collaboration and a single location for important school resources. Powerful tools for you to use privately or in your own way for your own practice. Teaching the use of these tools through common staff tasks.
Gmail (@ps29bk.org)
your username for all Google Apps
to be used for all staff communication
stay logged in
log in to multiple accounts
PD NEEDS, reset your password, forwarding
like Word but online "in the cloud" live collaboration on documents live feedback for colleagues or students
GOOGLE DRIVE - STUDENTS (Gr 3-5), Curriculum Potential, DIGITAL PORTFOLIO, all typed work is archived in docs, images of any written work can be photographed and uploaded to Google Drive, Drive + Blogger or Sites, Media literacy teacher teaches skills and setup; all teachers leverage the use of the tools for student work management and collaboration., Access and comment on student work as well as collaborative curriculum docs, Upload photos of student work to annotate, Develop curated Student Portfolio folders, Students learn to digitize, organize and publish their best work using available tools and Drive, Create Forms for surveys & quizzes, Create self-grading quizzes (Flubaroo Plugin), Logistics, Each student makes a folder and shares it with Media Lit & Classroom Teacher, Students could have content area folders, and a "portfolio" folder (optional)
PS29 STAFF DOCUMENTS (SHARED FOLDERS), Folder Structure, Grade Level Curriculum (i.e. Grade X), Organizing Docs in Folders with Naming Conventions, Move Shared Docs & Folders from "Shared with Me", minutes/agendas, Rubrics, etc., Unit/Lesson Plans, Procedures and forms, vertical social studies plan, etc. unit maps grade links to CCSS links to Danielson admin forms (field trips etc.) grammar scope and sequence grade team minutes (lead by tech committee members), unit maps & related docs, Archive and home of live curriculum and school documents, grammar scope and sequence, Daily Schedule (page), Policies, Forms, trip request, peer mediation, testing calendar, Curricular, Logistical Goals, Establish naming conventions (i.e. Grade, Class, Year, Title), class number, teacher/student name, OR grade level, Understanding Uploading & Conversion of Files (Word esp.), Word, Powerpoint, PDF, Excel, .Notebook, Convert Word Templates to Google Docs Versions, other...
Google Sites
STAFF PORTAL Google Site, Links to Staff Google Calendar, Admin Announcments, Links to all staff documents in Google Drive
Google Calendar
staff events (private to staff)
public events (shared with community)
grade level/class calendars (optional)
NO Gmail in short term plans
Define the "Why?"
Use Digital Resources to ENHANCE what you already do well.
Use concept of media literacy to continuously reflect on use of digital resources (staff & students)
Working backward from the skills kids will need to conduct independent research, synthesize information, execute media production projects (media literacy, critical thinking as authors combining text, images and audio); And to express themselves through public/private responsibly (digital citizenship)
Co-Plan with teachers interdisciplinary projects integrating content, CCLS, & media literacy cluster skills & concepts, Yearly focus on a type of production per grade level, K-1 ongoing logs of learning (rotating through different kids, assisted by teacher or TA), 2-5 Varying levels of independent student productions, K-5 Digital Citizenship, GOAL: Design projects that align with CCLS & develop media literacy (understanding concepts + hands on practice)
Assess what's needed in K-2 to prep kids for 3-5 Goals
Challenges, balancing inquiry driven with search efficiency, teacher comfort, tech support/maintenance
K Activity Websites/Collaborative Productions, Suggested home extension, Will collaborate on teacher guided multimedia projects
1 - Basics, Keyboarding & Collab Projects, typing, doc formatting, OS Basics, Browsing, addresses, search, Keyboard Shortcuts, Vocabulary
1/2/3 Typing Practice, Typing practice games, Reinforce with Google Drive, "Home Row", ID the letters on the keyboard, Introduced by Susannah, reinforced at home
1/2/3 Web Research Best Practices, Learn keywords, search terms (browser, Internet, search engine, URL, etc.), Connect to units of study, Scaffold by searching within specific "loaded" sites, Introduced by Susannah, reinforced in classroom
2/3 Establish Digital Citizenship Core
2/3 reinforce & assess above through Small Scale Independent Digital Productions, iMovies, Presentations (google), Glogster, Blogging or publishing writing on google site (i.e. Peace Blog), Google Maps (custom), Add more based on what fits with current units
Starting in 2014?: Student Portfolios using Google Apps Accounts, Google Drive Overview, Google docs word processing (in cloud, collaborative), Google Forms, leave a survey for your kids on your class blog -- display results as a graph, students post surveys, or quizzes online, Flubaroo auto-quiz assessments, 5-30GB Storage in Cloud per account, Google Presentations (like powerpoint), Spreadsheets, 3D Drawing
4 reinforce & assess K-3 skills through Independent Digital Productions (videos, blogs, presentations, etc.), Google Drive Portfolios of text and multimedia work, Typed work published in school and online, iMovie video production, Voicethread, Screencasts, Google Docs Presentations, Collaborative archived we elements within Units (i.e. Seth Low in 1st grade with more student involvement, Peace blog + multimedia), Kids are starting to choose tools based on how they serve their communication goals
5 students making tool and production choices based on tasks
NOTE: this is a sketch, and needs to account for students entering grade levels without
Est. Baseline Digital Skills & Tools for Staff
Google Drive Shared Documents, access resources, collaborate on resources
Google Site Portal
Gmail
Laptop, projector, document camera
Staff becomes more "MEDIA LITERATE" by developing useful digital projects, tasks & practices
Improving baseline Staff Digital Literacy competencies in a more simple set of tools (Drive, Sites, Calendars...)
Building awareness of Media Literacy broad concepts where they support Common Core Standards (i.e. critical reading & writing with new media, making choices in digital realm: citizenship, as producers and consumers), Definition of Media Literacy, critical thinking & literacy extended to new media: core principles, 1: MLE requires active inquiry and critical thinking about the messages we receive and create., 2: MLE expands the concept of literacy to include all forms of media., 3: MLE builds and reinforces skills for learners of all ages and requires practice., 4: MLE develops informed, reflective and engaged participants essential for a democratic society., 5: Media are a part of culture and function as agents of socialization., 6: People use their individual skills, beliefs and experiences to construct their own meanings from media messages., you are already experts if you boil it down to basic communication: who's author, what is their intention, and what audience is this for?, production = "writing" in new media, not hard for kids to pick up skills, communication tool box, kids can be empowered through SCHOOL to use these tools to communicate with the quality/effectiveness you try to teach them with writing, 21st century citizens need to be able to think critically about the media they receive and create in order to be informed citizens of a media-driven democracy and lifelong learners., Relevance to CCSS, fit them into existing work to help connect with standards/goals, new media can be included as "texts", "informational texts", "nonfiction", etc., media projects can demonstrate communication skills, comprehension, meaning-making, etc., Internet research best practices, perfect for getting students to struggle with ambiguity: perseverance, understanding, etc. through discussion and critical analysis.
Keep it simple and manageable - minimize core teacher time spent teaching digital mechanical skills by involving the cluster teacher in planning. Reign in the number of tools teachers are required to use, and have them overlap with student tools when possible.
student voice
extensions
differentiation
sustainability, paperless, time constraints, tech support
Small group instruction
Support all of the above through small group PD
Chromebook vs. Mac
Savvy vs. Beginner
K-2 vs. 3-5
Grade Level
Establish Tech Support
TECH COMMITTEE DISCUSSIONS
List of Units of Study with Essential Questions
Grade Level Google Calendar
individual class pages, Class Links, email, schedule, customized unit links & info specific to your class, Blog, newsletters, student work, student reflections & observations, trip photos or slideshows, blog posts with resources, announcements, media, deadlines, downloadable forms, etc.
audiences & goals, parents, logistics, extensions, kids, in class organization, at home extension activities, publishing work, you in the future, archived unit resources, looking back on past, organizational memory
MORE, Amazon Wish List, Donors Choose, Adopt a Classroom
Digital Citizenship Contract (TBD), Students in 4th grade build it based on a framework, Use student discussions to generate custom policy and build contract buy-in.
COPPA
NYCDOE Acceptable Use Policy
Need to develop PS 29 policy (covering bits on digital citizenship, social media, home/school relationship, mobile device use in school)
Checkout procedures and buy-in from teachers to take ownership of devices.
Public Website (Brochure)
Managed by Parent Coordinator
MENU, NEWS, Calendar (Google Embed), Blog of announcements, ABOUT 29, curriculum overview (short), Contact & Location, About Text, Admissions, LINKS TO CLASS SITES, PARENT RESOURCES, Parent Resources, Student Resource?s
Tech Support
Google Groups, staff
Checkout devices
Room Setup
MEDIA LITERACY
Extends "literacy" to new technologies and forms of media
Understanding the role of media in society
Skills to follow paths of inquiry
Creative self-expression
Modern "digital" citizenship
Reflection on role of media in our lives
Activation of education and inquiry in the real world
Skills: Technical & Critical Thinking
Facilitating a media literate culture in the school
Eduacators: using digital resources to improve teaching and learning
Students: adaptable technical skills, ability to explore and tinker, critical awareness to think about what tools, projects and actions serve their purpose.