蝴蝶效應:How the world has changed!!
by
Benny Chin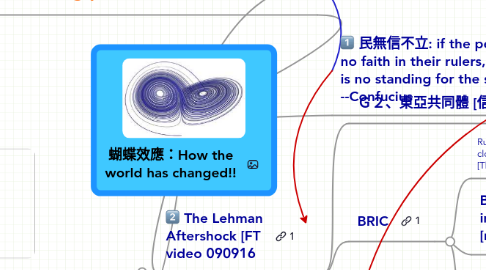 0.0
stars -
0
reviews range from
0
to
5
蝴蝶效應:How the world has changed!!
G2、東亞共同體 張立 金融海嘯,使中國提前進入全球經濟的中心舞台,這在北京的意料之外。但形勢使然,在全球衰退下,中國保持增長,成為世界經濟的重要動力。 美國有人提出「G2」、即中美兩國分工合作(實質主宰)全球事務。北京明確反對。G2說法,策略多於實際,但無論如何,反映了「現實」或者「趨勢」。 但近期亞洲有另一種呼聲出現,這是借日本鳩山上台提出「東亞共同體」,不但是日本,還有韓國都在醞釀及推進這一設想,倘果真實現,將是對世界地緣政治的重大衝擊。 日本《讀賣新聞》十五日報道,鳩山首相出席聯合國大會時,將會與胡錦濤會談提出「東亞共同體」構想,據悉已得到中方積極回應。 報道指出,日本和中國若共同主導建構東亞共同體,可能引起美國的不安。 而韓國的《朝鮮日報》駐東京記者引文「中日聯合」以及包括韓國的「東亞聯合」說法在日本抬頭。有人說,未來的「兩國集團」(G2)不是「美國和中國」,而是「美國和東亞」,同時「亞洲隊」(Team Asia)的說法也在擴散。 被提名為下任外相的岡田克表示:「中國對亞洲國家的地位今後將大幅提高,二十一世紀是亞洲的時代,希望構建雙贏關係。」 日本媒體報道,「希望中日韓三國盡快舉行首腦會談,確認聯合關係」。十月十日,中日韓三國首腦會議在北京舉行。 通俗的說,日本、韓國是美國馬仔,他們的這種傾向,當然引起美國的注意。 美國國務卿希拉莉最近說,「為了解決地球上的各種問題,中美兩國一定要加強合作」,「構建美、中之間強而有力關係是奧巴馬政府的目標」。 中國地位的變化,以及亞太地區的組合的微妙變化,正在醞釀。  
  The old Washington consensus is over. Today we have reached a new consensus that we take global action together to deal with the problems we face, that we will do what is necessary to restore growth and jobs, that we will take essential action to rebuild confidence and trust in our financial system and to prevent a crisis such as this ever happening again. There are no quick fixes but with the six pledges we make today we can shorten the recession and we can save jobs.First of all for the first time we have come together to set principles to reform the global banking system. This is a comprehensive programme of measures that includes for the first time bringing the shadow banking system, including hedge funds, within the global regulatory net. We have agreed that international accounting standards will have to be set. We will regulate credit rating agencies in order to remove their conflicts of interest. We have agreed that there will be an end to tax havens that do not transfer information on request. The banking secrecy of the past must come to an end. The Organization for Economic Cooperation and Development are this afternoon publishing a list of tax havens that are non-compliant and where action must immediately be taken. And we have agreed tough standards and sanctions for use against those who don't come into line in the future. We will create a new Financial Stability Board to ensure cooperation across frontiers and to spot risks to the economy and together with the International Monetary Fund provide the early warning mechanism that this new global economy needs. We will complete the implementation of international colleges of supervisors of financial institutions and we will implement new rules on pay and bonuses at a global level that reflect actual performance with no more rewards for failure. We want to encourage corporate responsibility.