Instructional design (ID) and project management (PM) are two separate components.They do not map directly across one to the other. They complement rather than duplicate.
by Tina Davis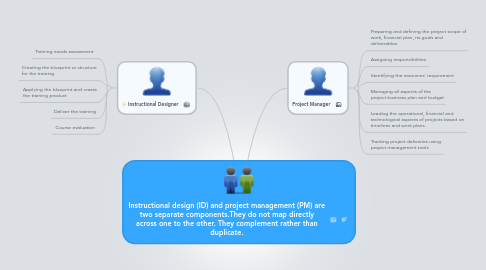 1. Project Manager
1.1. Preparing and defining the project scope of work, financial plan, its goals and deliverables
1.2. Assigning responsibilities
1.3. Identifying the resources' requirement
1.4. Managing all aspects of the project business plan and budget
1.5. Leading the operational, financial and technological aspects of projects based on timelines and work plans.
1.6. Tracking project deliveries using project management tools
2. Instructional Designer
2.1. Training needs assessment
2.2. Creating the blueprint or structure for the training
2.3. Applying the blueprint and create the training product
2.4. Deliver the training
2.5. Course evaluation