To explore new business for Old Time Productions
by Trisonia Lewis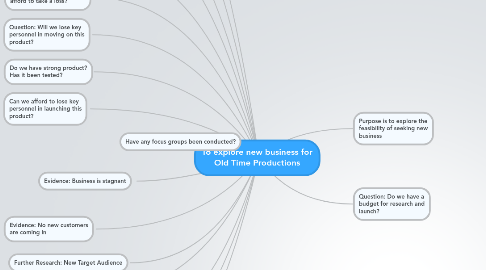 1. Purpose is to explore the feasibility of seeking new business
2. Question: Do we have a budget for research and launch?
3. Question: Have we researched the new targeted customers?
4. Question: Is there a audience interested in this product?
5. Question: Can the company afford to take a loss?
6. Question: Will we lose key personnel in moving on this product?
7. Can we afford to lose key personnel in launching this product?
8. Do we have strong product? Has it been tested?
9. Have any focus groups been conducted?
10. Evidence: Old Time Productions has been in business for 75 years
11. Evidence: Their business has been successful for years
12. Evidence: Business is stagnant
13. Evidence: No new customers are coming in
14. Evidence: Old Management is against the idea or trying to acquire new customers
15. Evidence: New management is for acquiring new cutomers
16. Further Research: New Target Audience
17. Further Research: Have we done enough research?
18. Further Research: Do we have a strong budget?
19. Further Research: Do we have a solid business and marketing plan?