Rock Your Biz Booty Camp
by MaryPat Kavanagh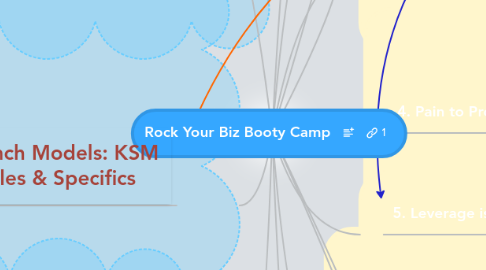 1. 1. Your Big Why - Finding Your Genius
1.1. Finding Your Genius
1.2. Victim/Commitment
1.3. Witches Brew - Genius, Loves & Skills (does this belong on Week 2?)
2. 2. Genius Loves & Skills
2.1. Your OMG-ness
2.2. Pull out the 1% you love and leverage the hell out of it!
2.2.1. WONDERSTORM HERE...
3. 3. Your Target Tribe
3.1. Compassion: feel the pain of your tribe
3.2. Elevator Pitch
3.2.1. Maestro for breakout sessions
3.3. You are your tribe at some point in their development
3.4. Laser Coaching on Target Tribe during call
4. 4. Pain to Promise Land
4.1. Continuation of Target Tribe
4.2. Focus on compassion, finding the target pain- key concepts: people will transform when they feel seen
4.3. might use...respecting your current life (foundation principle)
4.4. make $ before you spend $
5. 5. Leverage is a girls best friend
5.1. Genius, Loves, Skils
6. 6. Fire Starting & Magnetic Selling
6.1. Your OMG-ness
6.2. **Giving people an experience - this relates to magnetic selling, creating a tribe, getting testimonials, and more
6.3. **Creating Urgency - getting people to say yes now (magnetic selling)
6.4. ****talk about completion and finishing strong as this is when people will peter off****
7. 7. Masculine/Feminine Energy
7.1. Balancing your masculine and feminine; when to tap into your M and F energies to increase your credibility and effectiveness
8. 1. Build a Leveraged Program (1-Many)
8.1. Tap into your STRENGTHS to build this
8.2. WHAT is a One-Many program & WHY you need to build your business around this concept;
8.3. HOMEWORK: What are my strengths? My witches brew?
9. 2. Leveraged Programs: Examples & Specifics
9.1. all successes were based on strengths & genius Loves & Skills
9.1.1. Prosperity Tribe (membership => association)
9.1.2. 40DN (group program, laser coaching)
9.1.3. Impact Posse (Affiliate model)
9.1.4. EIE, RYB Live Events
9.1.5. EIE Radio
9.1.6. RYB Mastermind
9.2. HOMEWORK: Noodling tapping into your genius in your program model: how can you be more leveraged?
10. 3. Launch Models Intro
10.1. Tap into your STRENGTHS & Genius
10.2. WHAT are some Launch Models & WHY you should build your launch on your strengths
10.3. HOMEWORK: What are my strengths in relation to my marketing? What launch models are attractive to me? Why?
11. 4. Launch Models: KSM Examples & Specifics
11.1. Specific examples of launches: what worked and why, what didn't work
11.1.1. 40DN program--video launch/telecall/affiliates
11.1.2. EIE Radio -- launched all programs from here for first few years
11.1.3. EIE Virtual Summit
11.1.4. Live event launch from stage
11.1.5. email campaign launch
11.1.6. Video campaign Launch
11.1.7. content-palooza launch within a program
11.2. all successes were based on strengths & genius Loves & Skills
11.3. HOMEWORK: Noodling - tap into your genius/strengths to develop a launch model that let's you shine.
12. 5. Choose Your Leverage Program
12.1. Radio Program
12.2. Affiliate Model??
12.3. Live Event
12.4. Membership Program
12.5. *****Pick 1 Biz Model & dive deep****
13. 6. Choose Your Launch Model
13.1. Telecall Launch
13.2. Email Campaign
13.3. Within another Program
13.4. ******Select 1 Launch model & dive deep*****
14. 7. Rock Your Biz: Putting it Together
14.1. Customize your Biz Model & your Launch Model based on your Witches Brew & Your Target Tribe
14.2. add in your Back End Booty Systems
14.3. sprinkle with your balanced energy
14.4. start some fires and magnetically sell
14.5. HOMEWORK: Complete the Playbook; revisit modules as you continue to tap into your Genius & build your LEVERAGED business