EXTERNAL ENVIRONMENTAL SCAN FALCON ACADEMY OF SUSTAINABLE TECHNOLOGIES
by Mike Ybarra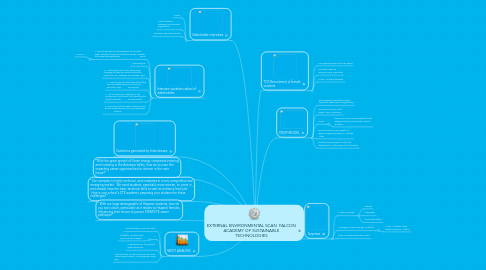 1. Questions generated by Interviewees
2. "Our company is highly technical, and competes in a very competitive and emerging market. We need students, especially more women, to come in, and already have the basic technical skills to start an entrance level job. How is your school's CTE academy preparing your students for these challenges?"
3. "With our large demographic of Hispanic students, how do you see culture, particularly as it relates to Hispanic females, influencing their choice to pursue STEM/CTE career pathways?"
4. "With the great growth of Green energy companies entering and investing in the Antelope Valley, how do you see this impacting career opportunities for women in the near future?"
5. Interview questions asked of stakeholders
5.1. 1. how do you see the demographics at Palmdale High, and what things are needed to sustain or better the current demographics? Social
5.1.1. SOCIAL
5.2. Technological
5.3. 2. In what ways do you see technology changing the way we conduct education within the FAST academy at Palmdale High?
5.4. 3. How do you feel about the state of the economy affecting our curriculum at Palmdale High? Economical
5.5. 4. Tell me about your feelings on the environment, and how is that impacting the city of Palmdale? Environmental
5.6. 5. How do you think politics impacts career technical education for the FAST academy? Political
6. Stakeholder interviews
6.1. Parent
6.2. Public Relations manager-local industrial organization
6.3. Palmdale High administrator
7. TCP-Recruitment of female students
7.1. CTE Opportunities not known about
7.2. Palmdale High-low socioeconomic population
7.3. S.T.E.M. industry demands
8. Surprises
8.1. Media Coverage
8.1.1. internet
8.1.2. newspaper
8.1.3. local cable station
8.2. coverage of Green Energy investment
8.2.1. AVGEA-Antelope Valley Greater Economic Alliance
8.3. Data uncovered extremely useful
9. SWOT ANALYSIS
9.1. Threats-funding, cultural hurdles
9.2. s
9.2.1. Strengths- available land, wind, and sun energies
9.3. Weaknesses-lack of prepared skilled workforce
9.4. Opportunities- lucrative financial incentives, career opportunities, "closing gender wage gap"
10. STEEP MODEL
10.1. Technological- latest technology in classroom, better technology training
10.2. Economical-concern with drastic cuts in education
10.3. Social
10.3.1. low income area, low educational family background for most families of most students.
10.4. Environmental-current growth of green energy companies in Antelope Valley
10.5. Political-strong support locally, and statewide, for continuance of CTE funding.