Saint Patrick's Day
by Jurger Montes Sierra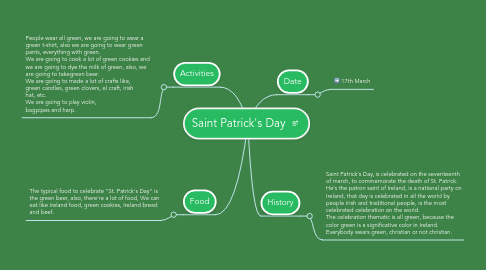 1. Date
1.1. 17th March
2. History
2.1. Saint Patrick's Day, is celebrated on the seventeenth of march, to commemorate the death of St. Patrick. He's the patron saint of Ireland, is a national party on Ireland, that day is celebrated in all the world by people Irish and traditional people, is the most celebrated celebration on the world. The celebration thematic is all green, because the color green is a significative color in Ireland. Everybody wears green, christian or not christian.
3. Activities
3.1. People wear all green, we are going to wear a green t-shirt, also we are going to wear green pants, everything with green. We are going to cook a lot of green cookies and we are going to dye the milk of green, also, we are going to takegreen beer. We are going to made a lot of crafts like, green candles, green clovers, el craft, irish hat, etc. We are going to play violin, bagpipes and harp.
4. Food
4.1. The typical food to celebrate "St. Patrick's Day" is the green beer, also, there're a lot of food, We can eat like Ireland food, green cookies, Ireland bread and beef.