The London Java Community FAQ
by
Barry Cranford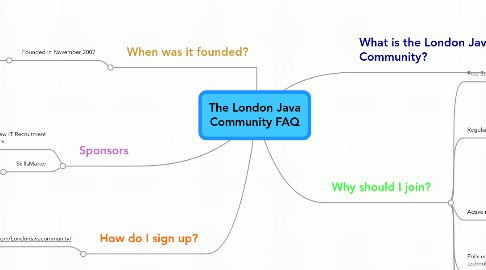 0.0
stars -
0
reviews range from
0
to
5
The London Java Community FAQ
What is the London Java Community?
Community of developers based in London
600+ Members as of September 09
Run through the Meetup.com website
When was it founded?
Founded in November 2007
by Barry Cranford, Java Recruitment Specialist, Latest jobs, http://www.recruitersoft.com/online/clearview/jobsearch.aspx, http://www.linkedin.com/in/barrycranford, b.cranford@clearview-itrs.com
Why should I join?
Free Social network
Regular free presentations
Usually evenings
Latest technologies, Within Java
Key industry figures, Technology founders, Chieft architects, Authors
Active mailing list
Regular discussions on various subjects, Technologies and Coding help, Chance to hear opinions from many different angles on key subjects, e.g., Are certifcations worth it, Recruitment issues, CV advice & Interview guidance
Polls on most popular technologies
How do I sign up
http://www.meetup.com/Londonjavacommunity/
Collaborative projects
The JavaSphere, http://www.mindmeister.com/30199702/core-java
Sponsors
ClearView IT Recruitment Solutions
Java recruitment specialists, http://www.clearview-itrs.com/
SkillsMatter
Premier training company in London, http://skillsmatter.com/
How do I sign up?
http://www.meetup.com/Londonjavacommunity/