Datasift
by Suresh Mucharla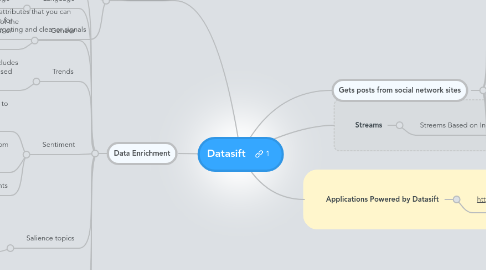 1. Gets posts from social network sites
1.1. Facebook
1.1.1. Filter and analyse
1.1.1.1. Shares
1.1.1.2. Comments
1.1.1.3. Posts
1.1.1.4. Likes
1.2. Wikipedia
1.2.1. Monitor Wikipedia in real-time for new articles added and edits made to current pages.
1.2.1.1. Free
1.3. Google plus
1.3.1. Filter and analyse
1.3.1.1. Shares
1.3.1.2. Comments
1.3.1.3. Shred content
1.4. Flilcker
1.4.1. Filter and analyse
1.4.1.1. Shares
1.4.1.2. Picutes
1.4.1.3. Followers
1.5. Twitter
1.5.1. Filter and anlyse
1.5.1.1. Filter data from Twitter firehouse
1.5.1.2. Filter based on text of public Tweets & 40 other fields including user, text, mentions & location
1.6. Youtube
1.6.1. Filter and analyze comments
1.7. Amazon
1.7.1. Forums and threads from Amazon's family of forums and messageboards.
1.8. Topix, A local community news platform
1.8.1. Get Posts
1.9. Supports IMDB, 2Channel, Dailymotion, Videos, Reddit, Message boards, Blogs, Bitty, News Cred
2. Query Builder
2.1. Can be embed into existing social listening platforms
2.2. Configure Query Builder to your own specific needs
2.3. 450 data attributes that you can filter upon for precise targeting and cleaner signals
3. Data Enrichment
3.1. analyses every single item of data it aggregates, adding additional augmentations
3.2. Language
3.2.1. Auto-detection of the language
3.3. Gender
3.3.1. Auto-detection of the gender of the individual that created the post or interaction.
3.4. Trends
3.4.1. Tweets relating to trending topics. Includes current, daily, weekly, and location-based trends.
3.5. Sentiment
3.5.1. The sentiment of the post, on a scale of -100 to 100. Supports English, French, Spanish, and Portuguese
3.5.2. Filter positive and negative feedback from the pages and posts relevant to your brand
3.5.3. Extract topics and sentiment from comments
3.6. Salience topics
3.6.1. Natural Language Analysis to identify high-level topics
3.6.1.1. Measure click-throughs/comments/likes on your posts to identify popular content and conversions
3.6.1.2. Identify the percentage of new fans that your content is generating, giving you insight into whether your content is reaching new customers
3.7. Klout score
3.7.1. The industry standard for measuring an author's online influence
3.8. Entity analysis
3.8.1. Analysis to identify the products, companies, people and places mentioned in posts
4. Streams
4.1. Streems Based on Industry
4.1.1. http://datasift.com/solutions/example-streams
5. Applications Powered by Datasift
5.1. http://powered.datasift.com/applications