SIMPLE PRESENT
by wilmer yohvany reyes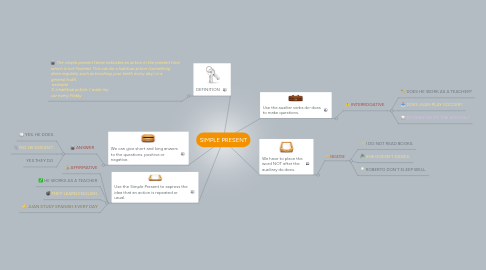 1. Use the Simple Present to express the idea that an action is repeated or usual.
1.1. AFFIRMATIVE
1.2. HE WORKS AS A TEACHER
1.3. THEY LEARN ENGLISH.
1.4. JUAN STUDY SPANISH EVERY DAY
2. We have to place the word NOT after the auxiliary do.does.
2.1. NEGATIVE
2.1.1. I DO NOT READ BOOKS.
2.1.2. SHE DOESN´T DANCE.
2.1.3. ROBERTO DON´T ELEEP WELL.
3. Use the auxiliar verbs do-does to make questions.
3.1. INTERROGATIVE
3.1.1. DOES HE WORK AS A TEACHER?
3.1.2. DOES JUAN PLAY SOCCER?
3.1.3. DO THEY GO TO THE SCHOOL?
4. We can give short and long anwers to the questions. positive or negative.
4.1. ANSWER
4.1.1. YES. HE DOES.
4.1.2. NO. HE DOESN´T.
4.1.3. YES.THEY DO.
5. DEFINITION
5.1. The simple present tense indicates an action in the present time which is not finished. This can be a habitual action (something done regularly such as brushing your teeth every day) or a general truth. example 1) a habitual action: I wash my car every Friday