GMG Relationship
by Ian Alexander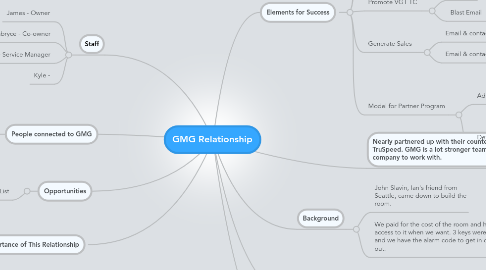 1. Nearly partnered up with their counterpart, TruSpeed. GMG is a lot stronger team and company to work with.
2. Background
2.1. John Slavin, Ian's friend from Seattle, came down to build the room.
2.2. We paid for the cost of the room and have access to it when we want. 3 keys were made and we have the alarm code to get in out and out.
3. The Simulation Room
3.1. Successfully demonstrated the machine there many times.
3.2. We've had a few professional drivers come test on the machine.
4. Past Events
4.1. GMG Tech Session
4.2. GMG Open House
5. People connected to GMG
5.1. Craig Stanton
5.2. Brent Holden (VGT Customer)
5.3. Bryce Miller (Driver-Supported)
6. Staff
6.1. James - Owner
6.2. Fabryce - Co-owner
6.3. Allen - Service Manager
6.4. Kyle -
7. Opportunities
7.1. Open House List
8. Importance of This Relationship
9. Elements for Success
9.1. Website Updates
9.1.1. Connect with Tony (Webmaster)
9.1.2. Update strategy for GMG site
9.1.2.1. Approve updates with Fab/James
9.1.3. Update strategy for VGT site
9.2. Blog Post announcing VGT TC
9.2.1. Quality photos of room
9.2.2. Write blog post article
9.3. Promote VGT TC
9.3.1. Website
9.3.2. Blast Email
9.4. Generate Sales
9.4.1. Email & contact our customers
9.4.2. Email & contact GMG customers
9.5. Model for Partner Program
9.5.1. Add Sales Associates
9.5.1.1. Find them
9.5.1.2. Train them
9.5.1.3. Support them
9.5.2. Develop support materials