BASES DEL DESARROLLO PSICOSOCIAL
by graciela rojas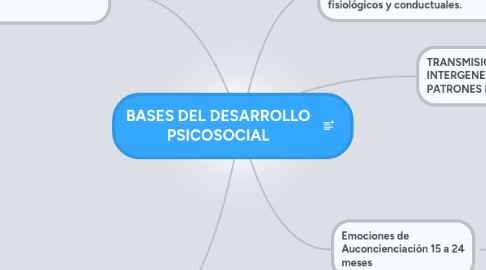 1. DESARROLLO DEL APEGO
1.1. Lazo recíproco y duradero entre dos personas, especial entre el lactante y proveedor de cuidados
1.1.1. APEGO SEGURO
1.1.2. EVITANTE
1.1.3. AMBIVALENTE
2. EMOCIONES Reacciones subjetivas a la experiencia que se asocian con cambios fisiológicos y conductuales.
2.1. SONRISA
2.2. LLANTO
2.2.1. SE DA A LOS 6 MESES
2.3. SORPRESA
3. Emociones de Auconcienciación 15 a 24 meses
3.1. VERGUEZA
3.2. CULPA
3.2.1. INS to insert (Windows)
3.2.2. TAB to insert (Mac OS)
3.2.3. ENTER to add siblings
3.2.4. DEL to delete
3.2.5. Press F1 to see all key shortcuts
3.3. TEMOR
3.4. NIÑOS FACILES
3.4.1. TRANQUILOS
3.4.2. PASIVOS
3.4.3. COMPRENSIBLES
3.4.3.1. Offline Mode
3.4.3.2. Geistesblitz Tools
3.4.3.3. Email & SMS Gateways
3.4.3.4. Offline Mode
4. A partir de la lactancia, el desarrollo de la personalidad se encuentra relacionado con el entorno
4.1. CUESTIONES DE DESARROLLO EN LA LACTANCIA
4.1.1. Los lactantes adquieren confianza en el mundo y forman apego (lactante- cuidadores) ¿Cómo es que los lactantes y cuidadores leen las senales no verbales los unos a otros?.
5. TRANSMISIÓN INTERGENERACINAL DE PATRONES DE APEGO
5.1. DESORGANIZADO- DESORIENTADO
5.1.1. REGULACION MUTUA Proceso en el cual el lactante y cuidador se comunican entre sí, y respoden de manera apropiada