Exercising for health is a myth,do you agree?
by 星藝 丁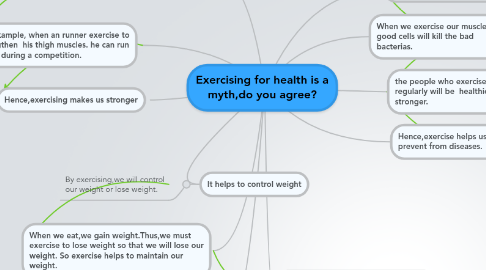 1. Hence,exercise helps us to prevent from diseases.
2. the people who exercise regularly will be healthier and stronger.
3. When we exercise our muscles,our good cells will kill the bad bacterias.
4. Hence,exercising makes us stronger
5. For example, when an runner exercise to strengthen his thigh muscles. he can run faster during a competition.
6. Hence, exercise is very good for our health and it helps us to control our weight.
7. When a fat person exercise daily or with regular physical activities, he can lose weight and become thinner.
8. When we eat,we gain weight.Thus,we must exercise to lose weight so that we will lose our weight. So exercise helps to maintain our weight.
9. It helps to control weight
9.1. By exercising,we will control our weight or lose weight.
10. It makes us stronger
10.1. When we exercise, our muscles works very hard and once strengthen our muscles. Our muscles will be stronger.
11. It helps us to prevent from diseases