Intelligence: inherent ability to use prior experience and environmental factors to gain and benefit from new knowledge
by Celeste Chung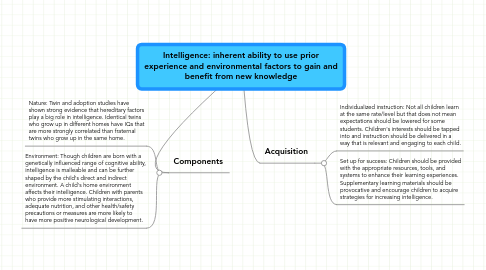 1. Components
1.1. Nature: Twin and adoption studies have shown strong evidence that hereditary factors play a big role in intelligence. Identical twins who grow up in different homes have IQs that are more strongly correlated than fraternal twins who grow up in the same home.
1.2. Environment: Though children are born with a genetically influenced range of cognitive ability, intelligence is malleable and can be further shaped by the child's direct and indirect environment. A child's home environment affects their intelligence. Children with parents who provide more stimulating interactions, adequate nutrition, and other health/safety precautions or measures are more likely to have more positive neurological development.
2. Acquisition
2.1. Individualized instruction: Not all children learn at the same rate/level but that does not mean expectations should be lowered for some students. Children's interests should be tapped into and instruction should be delivered in a way that is relevant and engaging to each child.
2.2. Set up for success: Children should be provided with the appropriate resources, tools, and systems to enhance their learning experiences. Supplementary learning materials should be provocative and encourage children to acquire strategies for increasing intelligence.