The similarities between Martin Luther King Jr. and Macolm X
by
Henry Hartig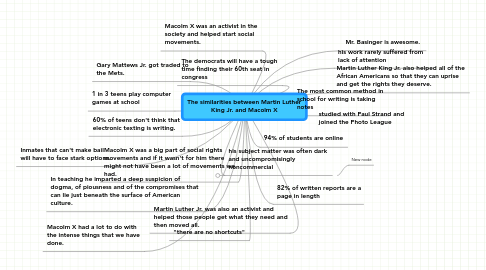 0.0
stars -
0
reviews range from
0
to
5
The similarities between Martin Luther King Jr. and Macolm X
his work rarely suffered from lack of attention
studied with Paul Strand and joined the Photo League
his subject matter was often dark and uncompromisingly noncommercial
New node
In teaching he imparted a deep suspicion of dogma, of piousness and of the compromises that can lie just beneath the surface of American culture.
"there are no shortcuts"
94% of students are online
1 in 3 teens play computer games at school
The most common method in school for writing is taking notes
82% of written reports are a page in length
60% of teens don't think that electronic texting is writing.
The democrats will have a tough time finding their 60th seat in congress
Inmates that can't make bail will have to face stark options.
Gary Mattews Jr. got traded to the Mets.
Mr. Basinger is awesome.
Macolm X was an activist in the society and helped start social movements.
Martin Luther King Jr. also helped all of the African Americans so that they can uprise and get the rights they deserve.
Martin Luther Jr. was also an activist and helped those people get what they need and then moved all.
Macolm X was a big part of social rights movements and if it wasn't for him there might not have been a lot of movements we had.
Macolm X had a lot to do with the intense things that we have done.