Redefining The Business Of IT At Harley-Davidson
by John Michl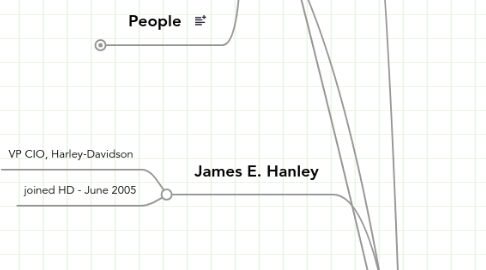 1. Determine critical skills and train, retain, grow
2. (not quite there yet)
3. areas of focus
3.1. The Business
3.1.1. Listen to all of the business strategies
3.1.1.1. collaboratively align the work
3.1.2. Determine themes and synthesize requirements into capabilities
3.1.2.1. outline work to support many
3.1.2.2. ERP enabled Integrated Process
3.1.2.2.1. One SAP instance for the world
3.1.2.2.2. started ERP two years ago
3.1.3. Business Technology alignment
3.1.3.1. build initiatives that enable the requirements of all stakeholders
3.2. Information Services
3.2.1. Consolidate
3.2.1.1. bring all infrastructure into 2 data centers
3.2.1.1.1. reduced capital spend
3.2.1.1.2. reduced energy consumption
3.2.1.1.3. uptick in performance
3.2.1.2. manage to capacity not projects
3.2.1.3. virtualize everything
3.2.1.3.1. two physical centers tied together
3.2.2. Integrate
3.2.2.1. converge all like products
3.2.2.2. create centers-of-excellence
3.2.2.3. ESM enabled Integrated IT processes
3.2.3. Innovate
3.2.3.1. Exploit our capabilities
3.2.4. Goal: How do we become a consultant to the business and not just an order taker?
3.3. Organize to leverage your skills and capacity
3.3.1. Global organization
3.3.1.1. face-to-face culture and community
3.3.1.2. leverage real-time collab
3.3.1.3. flying on planes not effective
3.3.1.4. I won't answer your phone calls or email but I will answer your IM
3.3.1.5. one virtual data center
3.3.2. Setup to support ALL business units
3.3.3. Business Facing with Centers-of-Expertise
3.4. People
3.4.1. Become consultative
3.4.1.1. We know the business
3.4.1.2. We know IT
3.4.1.3. We should consult and not just take orders!
3.4.2. Have the Right Skills
4. James E. Hanley
4.1. VP CIO, Harley-Davidson
4.2. joined HD - June 2005
5. everything we do is because of the customer
5.1. Harley isn't just about the bike
5.2. emotion
5.3. brand
5.4. community
5.5. Are we doing the right things around the customer?
6. Global Info Services
6.1. Vision - to have common, simple and integrated systems worldwide
6.2. Mission - establish a IS capabilities which enables H-D and all subs to meet their strategic and teactical objectives
6.3. Leadership Statement -
6.4. None of these statements says anything specifically about tech, widgets, etc
7. Challenges
7.1. Culture
7.1.1. Globalization of IT resources
7.1.2. Common Solutions across Business Units
7.1.2.1. hard to get over "I'm unique"
7.1.2.2. culture - stick it to the man
7.2. People
7.2.1. Working globally
7.2.2. consulting versus taking orders
7.3. Process
7.3.1. commonizing IT processes
7.3.2. Enabling business processes versus business units
7.4. Technology
7.4.1. Common technology
7.4.2. Virtualization
7.4.3. Building and Using a "tool box"
7.4.4. Projects and business units don't own technology
7.4.4.1. project is buying capacity
7.4.4.2. internal cloud
8. Results
8.1. Act with speed
9. Q&A
9.1. empowerment
9.1.1. must come with some fences (EA)
9.1.2. now go innovate to add value and bring richer experiences
9.1.3. without EA fences you can innovate like crazy but it may not add value (?? Then is it innovation?))