ARE YOU READY?
by
Raphaela Brandner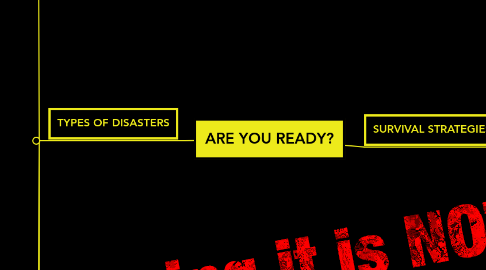 5.0
stars -
5
reviews range from
0
to
5
ARE YOU READY?
All information provided in this map was taken from www.ready.gov
SURVIVAL STRATEGIES
BUILD A DISASTER SUPPLIES KIT
A disaster supplies kit is simply a collection of basic items your household may need in the event of an emergency. Try to assemble your kit well in advance of an emergency. The supplies should last for at least 72 hours!
Your family may not be together when a disaster strikes so it is important to plan in advance: how you will get to a safe place; how you will contact one another; how you will get back together; and what you will do in different situations. Read more about Family Communication during an emergency. Ready.gov has made it simple for you to make a family emergency plan. Download the Family Emergency Plan (FEP) (PDF - 450 Kb) and fill out the sections before printing it or emailing it to your family and friends. You should also inquire about emergency plans at places where your family spends time: work, daycare and school, faith organizations, sports events and commuting. If no plans exist, consider volunteering to help create one. Talk to community leaders, your colleagues, neighbors and members of faith or civic organizations about how you can work together in the event of an emergency. You will be better prepared to safely reunite your family and loved ones during an emergency if you think ahead and communicate with others in advance. Read more about school and workplace plans.
TYPES OF DISASTERS
You should know what your risks are and prepare to protect yourself, your family and community.
You can prepare for an influenza pandemic now. You should know both the magnitude of what can happen during a pandemic outbreak and what actions you can take to help lessen the impact of an influenza pandemic on you and your family. This checklist will help you gather the information and resources you may need in case of a flu pandemic.
Technological & Accidental Hazards include technological hazards such as nuclear power plant failures and hazardous materials incidents. Usually, little or no warning precedes these disasters. Unfortunately, the number of potential accidental disasters is escalating due to the increased number of new substances and the opportunities for human error while using these materials. Learn what actions to include in your family disaster plan to prepare for and respond to such incidents. For example, in your own home, you can learn how to use, store and dispose of household chemicals in a manner that will reduce the potential for injury to people and the environment.
Throughout human history, there have been many threats to the security of nations. These threats have brought about large-scale losses of life, the destruction of property, widespread illness and injury, the displacement of large numbers of people and devastating economic loss. Recent technological advances and ongoing political unrest are components of the increased risk to national security. Learn what actions to include in your family disaster plan to prepare for and respond to terrorist threats.