26-Week Internet Marketing Plan FRAMEWORK http://www.26weekplan.com/framework
by
David Bain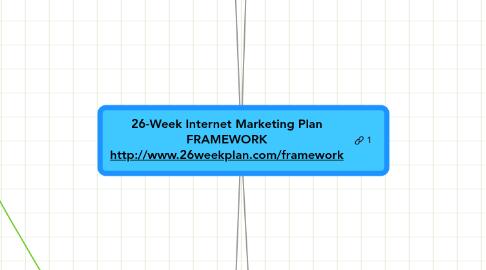 4.8
stars -
40
reviews range from
0
to
5
Phase #1: WEBSITE STRUCTURE
Week #1: Market Research & Business Strategy
Competitor benchmarking, Review competitor's websites, Analyze their products and services, Measure their online popularity, Visit Compete to anayze your competitors http://www.26weekplan.com/compete
Brand protection, Domain squatting, Social network ID squatting
Business positioning, Differentiation compared with competitors, Untapped opportunities / niche markets
Business purpose, Ultimate goal for each website visitor, Do you want to sell from the website or capture prospective customer data?
Target market, Design your site according to your target market, 99Designs can come up with a great site design http://www.26weekplan.com/99designs, Try to carry out some customer research before finalizing your site design
Brand identity, Can new visitors quickly find what they want?
Business infrastructure, What software can you integrate with your website to help to automate your business model?, Use Wishlist Member to build a membership site http://www.26weekplan.com/wishlistmember, Use S3Flowshield to protect your members-only content http://www.26weekplan.com/s3flowshield, Use iDev Direct as your affiliate software http://www.26weekplan.com/idevdirect, Use 20DollarBanners to design your affiliate banners http://www.26weekplan.com/20dollarbanners, We recommend Host Gator as your host http://www.26weekplan.com/hostgator
Week #2: Keyword Research
Home page keywords, Long-term, competitive keyword phrases, Idealistic, not essential objective
Category page keywords, Medium term objective, Helps search engines determine site content relevance
Long-tail keywords, Short term objective, High conversion rate keywords
Low competition keywords, Keywords your competitors are missing, Just 3 visitors per day = over 1000 visitors per year
Competitor keyword analysis, Piggybacking on existing research, Take advantage of competitor brand searches
Semantic keywords, Related phrases that don't contain the same words, Help search engines determine the relevance of pages
Keyword ranking tracking, Ensure the consistency of your rankings, Check the ranking of your competitors
Keyword research software, Use Market Samurai to research the competition, identify and track keywords http://www.26weekplan.com/ms
Week #3: Site Structure
Reliable hosting, Speed, Reliability, Bandwidth, Physical location, We recommend Host Gator http://www.26weekplan.com/hostgator
Effective content management system, Easy to use and update, Integrates well with other aspects of your website
Quality design, Industry leading, Appropriate coloring etc, Make sure you have a look at what 99Designs can offer http://www.26weekplan.com/99designs
Optimized design architecture, For search engines, For users, We like using the Thesis WordPress theme http://www.26weekplan.com/thesis
Technical support, Can you update / improve your website easily?, Blog Tech Guy provides reliable, value-for-money support http://www.26weekplan.com/blogtechguy
On-site search engine optimization, Title, Header, Content, Linking, On-site search engine optimization is covered in much greater depth in the 26-Week Internet Marketing Plan Blueprint http://www.26weekplan.com/blueprint
SEO error diagnosis, Pages not being crawled, Pages not being indexed
Week #4: Data Capture & Marketing Funnel
Grow your own opt-in list, Remove your reliance on 3rd party traffic referrers, Own your own list, unlike with Facebook page 'Likes' etc
Carefully select email marketing software, Double opt-in?, Third party software integration, We use and recommend Aweber http://www.26weekplan.com/aweber
Offer a great reason to opt-in, Focus on maximizing conversion rates, A free eBook with a professional eBook cover from Killer Covers will help your opt-in rates http://www.26weekplan.com/killercovers
Split-test opt-in methods, Different opt-in incentives, Pop-up windows, Popup Domination is a great tool for improving opt-in rates http://www.26weekplan.com/popupdomination, 'Squeeze' pages
Build a relationship with your list, Be consistent with your emailing frequency, Be consistent with your tone and message, Survey your list with Survey Gizmo to improve trust and get new product ideas http://www.26weekplan.com/surveygizmo
Integrate with existing business systems, CRM systems, Sales sequences
Upsell and cross-sell to maximise revenue, Recommend existing products an services, Consider partnering with 3rd parties
Week #5: Conversion Rates
Don't prejudge what will convert best, Brainstorm other options and test them, Pick different headings, colors and call to actions, 43 Split Tests will give you lots of ideas http://www.26weekplan.com/43splittests
A/B split tests, Test one page or advert against the other
Multivariable tests, Test elements from within on page or advert
Heatmaps, See where visitors spend most of their time while on your site, Clicktale will help you to keep visitors engaged in page content http://www.26weekplan.com/clicktale
Clickpaths and click tracking, See what links are most popular, See what paths visitors take prior to making a purchase
Week #6: Visitor Tracking
Where your visitors come from, Countries, Regions, Cities
Which sources referred most visitors, Links, Search engines, Keywords
What your visitors do while on your site, What pages they land on, Which links they navigate through, What pages they exit on
What content your visitors view, How long they spend on each page, Which pages they view
Which sources refer the best converting visitors, Can you forge better links with those top referring resources?, Can you increase the volume of traffic from those resources?, Read the 26-Week Internet Marketing Plan Blueprint to find out more about visitor tracking: http://www.26weekplan.com/blueprint
Phase #2: GET SOCIAL & TURN ON THE TAP!
Week #7: Blogging
A blog as a content management system, Don't believe that a blog can only produce blog posts, A blog can manage your site pages as well, Blog Tech Guy can help you get things set up http://www.26weekplan.com/blogtechguy
Selecting a blog host, Easy to install and manage your blog, Reliable, fast and can handle all of your needs, Host Gator is the one we recommend http://www.26weekplan.com/hostgator
Blog design & structure, Select a great theme, We recommend using the Thesis theme http://www.26weekplan.com/thesis, Think of both users and search engines, if you want to get your own bespoke theme designed, consider using 99 Designs http://www.26weekplan.com/99designs
3rd party software add-ons, Can you accomplish your desired strategy with existing software add-ons?
Automated blog marketing, Blog directory submissions, Tagging and pinging
Content writing strategy, Posting frequency and tone, Post content options, Outsourced or in-house?, find content writers through oDesk if you don't want to write everything yourself http://www.26weekplan.com/odesk
Publishing strategy, Reactive to content on other blogs, Original authority, Search engine or reader or combined focus
Week #8: RSS
How RSS works, Automated content delivery to where your readers want it, Subscription options
Benefits of RSS, Subscriber in control, Automation of content deliver to where your readers want it, No content delivery costs
Offering multiple RSS feeds, Subscribers just receive relevant content
Obtaining RSS subscriber stats, Use a service like Feedburner to be aware of subscriber numbers
Marketing your feeds, Build links to your feeds, Bookmark your feeds
RSS feed directories, Submit your RSS feeds, RSS feed directories update with your latest posts
Check out the week #8 RSS resources at http://www.26weekplan.com/resources#week8
Week #9: Twitter, LinkedIn & Facebook
Facebook page strategy, Research what your competitors are doing, Think of why people would want to 'Like' your page
Social media brand voice, Corporate / Informal – whatever your tone, be consistent
Personal tweeting style, Corporate speak on Twitter doesn't tend to work
Hijacking topics in the media, Much more likely to attract readers
Encouraging social spreading, Make your content so good that people what to share it with their friends, Make your content easy for people to share, Social proof – show that other people are already sharing your content
Online networking, Replicate traditional face-to-face networking, LinkedIn can be particularly good for this
Social media management, Manage your social media interaction efficiently, Hootsuite is a great tool for managing multiple social media accounts http://www.26weekplan.com/hootsuite, Use multiple network access tools
Week #10: Social Media Syndication
Blog directory submission, Automate your blog post distribution
RSS Feed directory submission, Automate your content publishing on other sites, Build more links back to your site
Social media profile interlocking, Help search engines and users to discover all of your online profiles and link them together
Twitter directories, Help people to find your Twitter profile, Find other people you might want to network with
People directories, Create positive, accurate profiles about you that people will see when they search for your name in Google
Check out the week #10 Social Media Syndication resources at http://www.26weekplan.com/resources#week10
Week #11: Reputation Management
Interact where your potential customers are interacting, Pick up relevant conversations as soon as they are started, Build a trusted user ID on forums
Control the first page of search engine results, Don't let negative or untrue web pages appear in the first page of search engines for searches of your brand
Brand mention management tools, Improve your social media management efficiency, Decrease the likelihood of missing out on brand mentions
What to automate - what not to automate, Be aware of the thin line when automated posting becomes spamming
Brand email alterts, Use Google Alerts and other social media alert tools to get brand mentions emailed to you as soon as they appear in blogs and forums
Reputation management strategy, Be strategic and reactive to more effectively managing your online reputation
Check out the week #11 Reputation Management resources at http://www.26weekplan.com/resources#week11
Week #12: Press Releases
Press release format, Not self-promotion – informative and relevant
Your angle / reaction to other topical news stories, Augment current stories in the press
Short and punchy, Don't include superfluous content, Consider using the E Releases writing services http://www.26weekplan.com/ereleases-writing
Formatting your call to action, Include a reason for people to visit your website for more information, Include an http version of your domain
Where & how to submit, How to structure your release, What day and time to submit your release on
Outsources writing & submission services, Whether or not you should be writing your own press releases, Release through E Releases http://www.26weekplan.com/ereleases-distribution, Release through PR Web http://www.26weekplan.com/prweb
Publication tracking, Where your release is being published, How to measure the success of different press release distribution services
Week #13: Pay Per Click
Drive instant, relevant traffic, Start with long-tail buyers keyword phrases to relevant pages
Immediate impact, No lengthy time period before appearing on the first page of Google search results
Google AdWords, The biggest source of PPC traffic, Subscribe to the free course "5 Days to success with Google AdWords" http://www.26weekplan.com/perrymarshall
Competitor PPC research, Steal target keywords and ad-copy ideas from your competitors, Spyfu helps you spy on your competitor's ads http://www.26weekplan.com/spyfu
PPC split testing, Always try to improve your ad conversion rates, You might be able to afford to pay a little more for a lot more traffic
Landing page relevance, Significantly improve your 'stickability' and conversion rates
Quality score, Reduces your PPC ad cost by increasing your quality score
Niche targeting, Start by targeting very specific products and services, The easiest way to lose money on PPC is to drive traffic from broad industry terms to your home page
Phase #3: LINK BUILDING
Week #14: Major Directories
Trusted links, Google trusts links from popular, old domains, Google actually recommends you get links in certain directories
Traffic & SEO, Directory links should be built with both search engines and visitors in mind
Analysing directory value, Make sure you determine the potential value of getting listed in a directory before you try to get your site listed
Outsources directory submission services, If you're going to get someone else to do your directory submissions for you make sure they know what they're doing! The Directory Maximizer submission service is a good deal http://www.26weekplan.com/directorymaximizer
Week #15: Niche Directories & Review Sites
Finding niche industry directories, The 26-week Internet Marketing Plan Blueprint will show you where to find niche industry directories http://www.26weekplan.com/blueprint
Reviewing niche directory relevance, Don't submit your website to low value, irrelevant directories
Submission strategy, Be consistent with your submissions, Don't submit to all directories at the same time
Niche review site relationships, Build personal relationships with review site owners, Offer unique review content for each site
Affiliate offer, Having an affiliate offer will make it much more likely for comparison sites and review sites to feature you
Check out the week #15 Niche Directories & Review Sites resources at http://www.26weekplan.com/resources#week15
Week #16: Location Specific Marketing
Regional directories, Research & determine value & relevance
Google Places & Google Maps, Free marketing on Google Maps, especially relevant for mobile web browsing
Yahoo Local, Not as common as Google Maps, but definitely still worthwhile
Submission strategy, Again be consistent with your submissions and don't submit to all directories at the same time
Local social networking, Very much at the early adoptor stage at the moment but depending on your business may be very important to know about
Mobile marketing, All down to relevant – if you can market to your niche market at a time when they may consider your products and services this could be extremely worthwhile
Check out the week #16 Location Specific Marketing resources at http://www.26weekplan.com/resources#week16
Week #17: Competitor Backlinks
Competitor research, Determine which competitors you need to keep an eye on over time
Competitor back link analysis, Establish the keyword phrases your competitors are ranking for, Benchmark your website performance against your competitors' website performance, Try the SEOmoz service for free http://www.26weekplan.com/seomoz
Research tools, Which software to use and how to use it – this is fully covered in the 26-Week Internet Marketing Plan Blueprint http://www.26weekplan.com/blueprint
Research strategy, Ensure that you're tracking the right keyword phrases
Back link value ranking, Determine the relevant keyword phrases that attract the most traffic and convert the best, Weigh this up against ease of ranking
Contacting prospective link partners, How to give yourself the greatest chance to get the links you want
Link incentives, You don't have to offer a link in exchange for a link – try offering different incentives
Week #18: Beg, Barter or Buy
Thinking out of the box, Maybe you can persuade other websites to link to you by giving them review copies of products?
Ensuring link relevance, Don't spend your time or money obtaining links from unrelated sites, Ensure that your link is in context, and contains an appropriate keyword rick phrase
Offline / online exchanges, One way links are the most effective – consider links for money, products or services
Membership club opportunities, Links from business networks like the Chamber of Commerce can be extremely valuable – you can sometimes get a free link if you're willing to offer fellow members a special discount
Under-the-radar link buying, Google frown upon link buying as it affects their organic search engine rankings, However, link buying can have a significant impact on your rankings, If you're going to buy links, make sure you incorporate other forms of link building as part of your internet marketing strategy, Text Link Ads is one of the biggest resellers of text links http://www.26weekplan.com/textlinkads
Testimonials, If you buy a product or service, send a testimonial – and send it to the marketing department with your website address. There's a decent chance that this testimonial will be published on their website – with a live link back to your site
Business sector searches, A lot of websites include link pages – try searching for link pages relevant to your business sector
Build your industry reputation, Use blog & forum posts to enhance your reputation as a trusted, knowledgeable industry leader
Drive relevant visitors to your site, When you comment in high-traffic blogs and forums and provide interesting, informative comments, you'll drive traffic to your site from your website link
Improve your SEO, Many forums allow you to include a keyword rich keyword link. Take advantage of this opportunity when it arises
Where to find related blogs & forums, The 26-Week Internet Marketing Plan Blueprint shows you how and where to find the best blogs & forums http://www.26weekplan.com/blueprint
Ranking blog & forum value, Ensure you that when you're spending your time adding comments, you're not wasting your site – you need to know how to determine the approximate amount of visitors that a blog or forum is likely to get
Keeping up to date with latest posts, Make sure you don't miss out on relevant blog posts from blogs on which you want to be a regular contributor
Ensuring appropriate communication style, If you're not using your natural style, create a persona and stick to that persona when writing
Check out the week #19 Blog & Forum Comments resources at http://www.26weekplan.com/resources#week19
Week #20: Guest Posts
Become an industry authority, Having guest posts published on leading blogs in your industry have the power to suddenly rocket your standing
Drive high converting visitors, When you drive visitors to your site who already trust you, you'll find that your conversion rates increase significantly
SEO link benefits, Many blogs which publish guest posts also allow authors to include keyword rich link to their site
High value, unique content, Blogs which accept guest posts will generally only publish your content if it's high quality and completely unique. Because of this, and because the blogs on which the guest posts appear are already well thought of by search engines, your guest posts will tend to rank highly in search engine results
Peer to peer relationship building, Having guest posts published will also raise your profile with other industry blog publishers who read the blogs on which your guest post in published
Check out the Guest Posting eBook by by Chris Garrett http://www.26weekplan.com/guestposting
Phase #4: CONTENT MARKETING
Week #21: E-Books & Viral PDFs
Planning your content ahead of time, The 26-Week Internet Marketing Plan Blueprint will give you a step-by-step content production plan to follow http://www.26weekplan.com/blueprint
Outsourcing / Ghost writing, Don't feel you have to do everything by yourself, When you publish content on some article reprint sites it doesn't matter that it doesn't have the same tone of voice as your website – the most important thing is that it's done
eBook structure, Once you design an e-book template you can outsource the writing – an then have enough content to use on article reprint sites for a year
Online document sharing sites, Sites like Scribd are the document sharing versions of YouTube
Viral PDF distribution, You need to make your content good enough for people to want to share it with their friends, and then seed different sites which will make this more likely
Call to action, Position your viral PDF as the start of your marketing funnel – ensure people take the next step after reading your PDF
Viral PDF is a great Viral PDF creation tool http://www.26weekplan.com/viralpdf
Week #22: Content Hubs & Feeder Sites
Link bait, Link bait is content that you publish on site which is so good that it naturally encourages lots and lots of links, There are certain styles of posts and post content which are more likely to encourage links – these are covered in the Blueprint
Online authority content sites, These are sites which search engines love because they contain lots of lengthy, unique content, Start by publishing good quality, unique articles with links back to your site on HubPages and Squidoo
Building your own niche content feeder sites, These can try to target micro keyword niches and increase your search engine footprint, OptimizePress is a fantastic WordPress theme for feeder sites http://www.26weekplan.com/optimizepress
Hosting & site structure strategies, When you establish your niche feeder sites it's important to carefully select your hosts – if you host everything on the same server and link between sites you might get into trouble with search engines
Where & how to produce feeder site content, Although important, feeder sites shouldn't take up too much of your time – make sure you have an outsourced content writing and posting strategy
Squeeze strategy, Apart from SEO, your main purpose of your feeder sites is to drive people into the initial stages of your internet marketing funnel. Make sure you have a good call-to-action, Remember to include Popup Domination to maximize your opt-in rates http://www.26weekplan.com/popupdomination
Week #23: Article Marketing
Article reprint sites, o In exchange for content, article reprint sites are willing to let you include an author bio with links back to your site
Article submission software, o There are hundreds of decent article directories, and it would take you ages to submit to each site manually, o Article submission software will automate this process but if you're going to be using automated submission software, make sure you use the right software, We recommend Submit Your Article http://www.26weekplan.com/submityourarticle, o The 26-Week Internet Marketing Blueprint shows you how to submit your articles using the best automated submission software http://www.26weekplan.com/blueprint
Content production strategies, As covered in week #21, it's important to plan your content ahead of time, Once you get use to it, it'll become second nature – and extremely worthwhile
Outsourced content writing, There are thousands of experienced, great value content writers out there, It's just a matter of finding them of sites like Elance and Odesk and setting them a small initial test project
To spin or not to spin?, Spinning articles is a method of producing lots of different articles from the one seed article, As long as if some caution is used and humans are involved in the production of the spun alternatives then this can be a valuable method of producing unique content for low-to-medium value article reprint sites
Author bio link strategy, At the end of each article, most article directories will give the option of including a little bit of information about yourself – and a link back to your site, Another great reason to use submission software is some submission software allows you to rotate your author bios, meaning that you can include different keyword rich links on different articles
Week #24: Audio & Video
Podcast production & editing, Download the free podcasting and podcast editing tools mentioned in week #24 of the 26-Week Internet Marketing Plan Blueprint http://www.26weekplan.com/blueprint, Take time to learn how to use the software, there's a small learning curve, but it's worthwhile getting to know
In-house or outsourced recording, Ideally you want to use your own voice on your own podcast to give it a personal touch, However, if you don't have the ability or desire you can find recording talent at sites like Voices.com
Software selection, If you're going to be publishing podcast episodes on a regular basis, you need to ensure that you have a software publishing system which is as efficient and automated as possible, WordPress plugins and specialist podcast hosting services will make the publishing of your podcast episodes as efficient as possible
Content strategy options, Just like different styles of blog posts, there are different styles of podcasts, Try asking your existing customers what type of content would be most appreciated
Content tone, Should your tone be serious, provocatory or humorous?, Decide on your communications style and stick to it – your subscribers expect your to be consistent
Associated written content, Although Google is getting at better at determining audio and video content, this technology is still very much in its infancy, When you post a transcription of the audio content with your podcast episode, search engines will be much more likely to rank your posts for appropriate keywords phrases, Some visitors prefer written content – by providing a written transcription you'll also be appealing towards these people
Distribution options, You should try to ensure that your podcast episodes and your feeder video and audio content gets distributed to as many places as possible, You'll find a full audio & video content distribution strategy in the 26-Week Internet Marketing Plan Blueprint http://www.26weekplan.com/blueprint, Traffic Geyser is a great video distribution service http://www.26weekplan.com/trafficgeyser
Week #25: Blog & Web 2.0 Site Distribution
Producing blog & web 2.0 site content, You also have an opportunity to produce content and distribute it to major web 2.0 sites and blog networks, When you do this it's important not to use the same content that you publish on your own site, You also need to be knowledgeable when it comes to selecting the right links to use when publishing this content
Eliminating duplicate content, The more unique your content is, the more likely it is to get published – and remain published
Seed articles, The posts which your submit to web 2.0 sites can evolve from the one seed article, However, you need to make sure that sufficiently different versions of your seed article are submitted to each site
Spinning the wrong way, Lots of internet marketers automate their spinning insertions, devaluing the value of their brand
Spinning the right way, You need to retain full control of your spun content, To do this it is essential that there is full human control over your spun content wording
Blog distribution networks, There are certain distribution networks which offer the best value, Week #25 of the 26-Week Internet Marketing Plan Blueprint shows you what distribution networks to use and how to use them http://www.26weekplan.com/blueprint
Submission strategy, It's important to be consistent, but also not to try to do too much, too soon, If search engines see your back-links grow too quickly they might 'sandbox' your rankings, Again refer to the blueprint for best submission practice
Week #26: Bookmarking & Social Sharing
Why people bookmark & why it matters to you, People bookmark and share web pages when they find them interesting or useful
Search engines & bookmarks, Search engines crawl these 'shares' and bookmarks, and the results of this crawl forms part of the web pages' overall ranking
Encouraging bookmarking & social sharing, There are a few ways that you can encourage your site visitors to bookmark and share pages on your site, Firstly, focus on the quality and usefulness of your 'link bait', Next, make it as easy as possible for your site visitors to share your content
Most effective bookmarking & social sharing sites, By integrating 'Tweet This' and Facebook 'Like' buttons on each of your pages, you'll be encouraging visitors to share your site on 2 of the most possible online web page sharing platforms
Bookmarking plugins, You don't have to manually insert bookmark sharing buttons onto your site if you use WordPress – try using a Plugin like the interestingly called Sexy Bookmarks to automate the insertion of your bookmarking buttons
StumbeUpon Ads, StumbleUpon is another extremely popular web page sharing site, However, StumbleUpon also offer an advertising opportunity which includes your site virality – this is definitely worth checking out if you have a decent link bait page with a call-to-action
Bookmarking & social sharing seeding, There are many bookmarking and social sharing seeding services which offer to quickly build backlinks and drive social sharing traffic, However, it's important to ensure that your website is shared in the right places – and in the correct neighborhoods, The 26-Week Internet Marketing Plan Blueprint will help you with this – and with the specifics of how to implement every other aspect of the 26-Week Internet Marketing Plan http://www.26weekplan.com/blueprint