VoiceThread in Education
by
Allan McGraw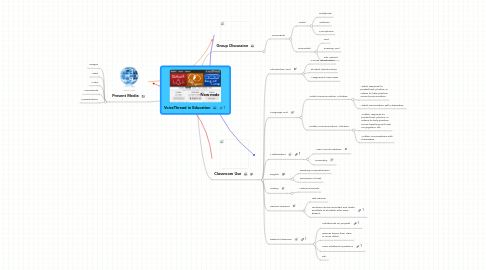 0.0
stars -
0
reviews range from
0
to
5
New node
Present Media
Images
Video
Audio
Documents
Presentations
Group Discussion
Comments
Classroom Use
"Students can demonstrate their knowledge of content, develop higher order thinking skills, improve their digital literacy skills, and harness the power of visual literacy in digital storytelling projects." - Wes Fryer "Teachers and students are using VoiceThread as a storytelling tool, a deep thinking tool, a research tool, an expository communication tool, and even an assessment tool." - Brenda Dyck
Introduction Tool
VoiceThread could be used by a professor teaching an online course to introduce the class. It could also be used by an online course to introduce students to one another. Each student could create a VoiceThread about themselves to share with their classmates. This would create a social connectedness that may otherwise not be created by an online course.
Language Tool
VoiceThread can be used to provide activites for the development of verbal as well as nonverbal language skills with classmates. This would allow the teacher to observe progress as well as provide feedback, all within a single VoiceThread.
These types of math presentations using audio and visuals are often called 'mathcasts'.
English
VoiceThread could be used by an English teacher to assess the reading comprehension of their students as well as provide a place to encourage discussion relating to course texts.
History
VoiceThread could be used by teachers as well as students to create a story about a historical event. This would help to provide a deeper understanding of the event while also making it more interesting.
Review Sessions
VoiceThread could be used for review sessions regarding course content. Teachers as well as other students could post questions which would create discussion and provoke thought about potential answers.
The main use of VoiceThread in education is to extend learning outside the classroom. VoiceThread can be used in virtual every setting and can greatly enhance learning. Only a few examples of how VoiceThread can be used have been shown in this mind map.