FORGIVE MY GUILT
by Daniel Baptiste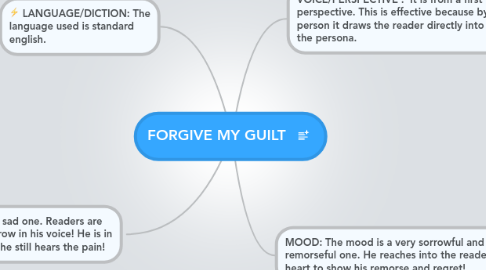 1. TONE: The tone is a sad one. Readers are able to hear the sorrow in his voice! He is in very down mood as he still hears the pain!
2. VOICE/PERSPECTIVE : It is from a first person perspective. This is effective because by using the first person it draws the reader directly into the perspective of the persona.
2.1. We hope you'll have fun with MindMeister ...
2.2. Get started now!
2.3. ... and some great ideas too!
3. MOOD: The mood is a very sorrowful and remorseful one. He reaches into the readers heart to show his remorse and regret!
3.1. Use toolbar to add ideas
3.2. Key shortcuts
3.2.1. INS to insert (Windows)
3.2.2. TAB to insert (Mac OS)
3.2.3. ENTER to add siblings
3.2.4. DEL to delete
3.2.5. Press F1 to see all key shortcuts
3.3. Drag & Drop and double-click canvas
3.4. Find out more?
3.4.1. Online Help
3.4.2. Use Cases & Templates
3.4.2.1. Personal Todo List
3.4.2.2. Vacation Planning
3.4.2.3. Meeting Minutes
3.4.2.4. Project Plan
3.4.2.5. more...
3.4.3. Tools and Gadgets
3.4.3.1. Offline Mode
3.4.3.2. Geistesblitz Tools
3.4.3.3. Email & SMS Gateways
3.4.3.4. Offline Mode
4. LANGUAGE/DICTION: The language used is standard english.
4.1. Check out http://www.mindmeister.com/tools