WOLVERINE
by Martin Martinez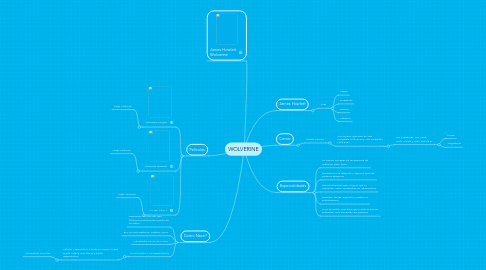 1. James Howlett
1.1. Alias
1.1.1. Logan
1.1.2. Guepardo
1.1.3. Glotón
1.1.4. Lobezno
2. Especialidades
2.1. Su cuerpo es capaz de recuperarse de cualquier daño físico.
2.2. Resistencia a la telepatía y algunos tipos de poderes psíquicos.
2.3. Garras retráctiles que, al igual que su esqueleto, están recubiertas de Adamantium.
2.4. Sentidos, fuerza, agilidad y resistencia sobrehumana.
2.5. Furia berserker, que hace que mientras más se enfurezca, más aumentan sus poderes.
3. Comic
3.1. Marvel Comics
3.1.1. Su Primera Aparición en The Incredible Hulk #180 y The Incredible Hulk #181
3.1.1.1. Sus Creadores Len Wein, Herb Trimpe y John Romita Sr.
3.1.1.1.1. X-men
3.1.1.1.2. Vengadores
4. James Howlett Wolverine
5. Peliculas
5.1. Wolverine Origins
5.1.1. Hugh Jackman
5.2. Wolverine Inmortal
5.2.1. Hugh Jackman
5.3. X-Men 1,2,3,4
5.3.1. Hugh Jackman
6. Como Nace?
6.1. Desciende de una sub-raza humana evolucionada a partir de los lobos
6.2. Era Un Niño Enfermo, Padecía Asma
6.3. Manisfiesta Garras de Hueso
6.4. Es Sometido A Un Experimento
6.4.1. Aplican Adamantium a todo su cuerpo lo que ayuda a darle mas fuerza y poder regenerativo
6.4.1.1. Volviendolo Inmortal