Privacy
by Ajax Virgil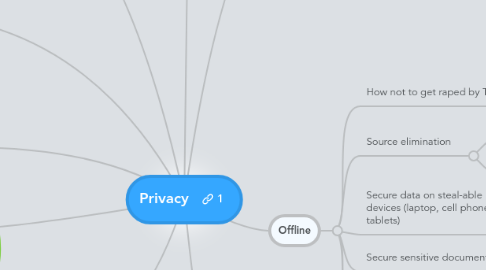 1. Online
1.1. Getting the right mindset and Not Leaving digital footprints
1.1.1. Web Surfing
1.1.1.1. DuckDuckGo
1.1.1.2. VPN
1.1.1.3. Email Encryption
1.1.1.4. Secure Connection
1.1.1.5. Double authentication
1.1.1.6. Wifi security
1.1.1.7. spyware security
1.1.1.8. Securing IP, cookies and stuff
1.1.2. Social Media
1.1.2.1. Chat encryption
1.1.2.2. Basic anti-pervert stuff for facebook
1.1.3. P2P
1.1.3.1. How not getting tracked
1.1.3.2. Encrypted connection
1.1.4. Widgets and Extensions
1.1.4.1. How to stop widgets and extensions reaching you and your data
1.1.5. Online Gaming
1.1.5.1. Basic cautions
1.1.6. Secure sensitive documents
1.1.6.1. Password encryption
1.1.7. Secure Credit/debit cards
1.1.7.1. Basic precautions
2. Offline
2.1. How not to get raped by TSA
2.2. Source elimination
2.2.1. File shredding
2.2.2. Destroying the source
2.3. Secure data on steal-able devices (laptop, cell phone, tablets)
2.3.1. Tracking and remote access
2.3.2. Securing the data
2.4. Secure sensitive documents
2.5. Secure your wallet
2.5.1. Do not keep social security card, excess credit/debit cards
2.5.2. ATM receipts/ credit card statements
2.6. {This needs more work}
3. Cell Phones and Other digital devices
3.1. Encryption and secure connection
3.2. Wifi security
4. Why need privacy?
4.1. Government
4.1.1. Right to privacy and dignity
4.1.2. Visited a website you are not proud of?
4.1.3. Could be used out of context against you and could land you behind the bar for something you are not even remotely involved with
4.1.4. Not wanting to live in a police state
4.2. Identity predators
4.2.1. Con artists taking a loan on your name
4.2.2. Framed in a crime
4.2.3. Sexual harassment of you or someone from you house
4.3. Marketers
4.3.1. Annoying ads following you
4.3.2. Marketers manipulating your preferences and behavior
5. Monitoring
5.1. Monitor your financial statements
5.2. Monitor social security statement
5.3. How to detect Identity theft
5.4. Search your name, address, phone number on google
6. Travelling
6.1. What to keep
6.1.1. Only relevant stuff
6.2. What not to keep
6.2.1. IDs Irrelevant to the trip
6.3. Secure your home and office before leaving
6.4. Securing luggage and backpack
6.4.1. What kind of luggage/backpack to never use
6.4.2. TSA friendly locks
6.5. Secure your wallet
6.5.1. Do not keep social security card, excess credit/debit cards
6.5.2. ATM receipts/ credit card statements
6.6. Evaluate after returning
7. Marketers
7.1. www.OptOutPreScreen.com or calling 1–888–5–OPT–OUT
7.2. National Do-Not Call Registry www.DoNotCall.gov
7.3. Direct Marketing Association Do-not mail list www.DMAChoice.org.
8. Special Module: Anti Deception Training (Social and Online)
8.1. Observe what's going around
8.2. React to identity requests with healthy skepticism
8.3. Interrogate, evaluate the situation and prevent manipulation
8.4. Signs of manipulation/fraud
8.5. Dont be afraid to say no
9. Identity Recovery and what to do after identity theft
9.1. Deactivate affected account/cards
9.2. Alert about fraud to relevant creditors/institutions
9.3. Submit Identity theft affidavit to FTC
9.4. File police report
9.5. Hire an attorney if damages and big and you are not able to undo it.
10. Tools
10.1. Web anonymity
10.1.1. DoNotTrackMe
10.1.2. MaskMe
10.1.3. Cocoon
10.1.4. DuckDuckGo
10.1.5. Tor
10.2. Email encryption
10.3. VPN and wifi protection
10.3.1. AnchorFree Hotspot Shield
10.4. Privacy restoration
10.4.1. SafeShephard
10.5. Voice/Chat privacy
10.5.1. CryptoCat
10.5.2. TorChat
10.6. File Privacy
10.7. Firewalls
10.7.1. ZoneAlarm