The 21 Years That Made Me
by Tori Michael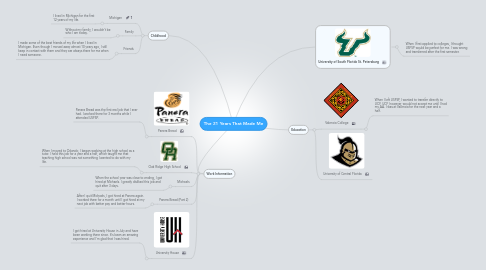 1. University of South Florida St. Petersburg
1.1. When I first applied to colleges, I thought USFSP would be perfect for me. I was wrong and transferred after the first semester.
2. Childhood
2.1. Michigan
2.1.1. I lived in Michigan for the first 12 years of my life.
2.2. Family
2.2.1. Without my family, I wouldn't be who I am today.
2.3. Friends
2.3.1. I made some of the best friends of my life when I lived in Michigan. Even though I moved away almost 10 years ago, I still keep in contact with them and they are always there for me when I need someone.
3. Education
3.1. Valencia College
3.1.1. When I left USFSP, I wanted to transfer directly to UCF. UCF, however, would not accept me until I had my AA. I was at Valencia for the next year and a half.
3.2. University of Central Florida
4. Work Information
4.1. Panera Bread
4.1.1. Panera Bread was the first real job that I ever had. I worked there for 3 months while I attended USFSP.
4.2. Oak Ridge High School
4.2.1. When I moved to Orlando, I began working at the high school as a tutor. I held this job for a year and a half, which taught me that teaching high school was not something I wanted to do with my life.
4.3. Michaels
4.3.1. When the school year was close to ending, I got hired at Michaels. I greatly disliked this job and quit after 3 days.
4.4. Panera Bread (Part 2)
4.4.1. After I quit Michaels, I got hired at Panera again. I worked there for a month until I got hired at my next job with better pay and better hours.
4.5. University House
4.5.1. I got hired at University House in July and have been working there since. It's been an amazing experience and I'm glad that I was hired.