Assignment 1 Digital Folder Plan
by Eassa Alkadri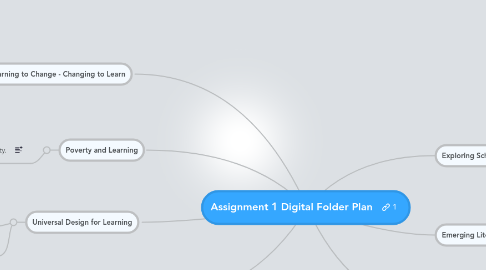 1. Exploring School Culture
1.1. "The most important foundational element is the culture of the school." ~ Allan A. Glatthorn (1992)
1.2. Everything from a teacher's interactions with his/ her students to the architecture of the school can affect learning. (School architecture as culture).
1.3. http://www.youtube.com/watch?v=yPvNqJ0Ne60
2. Emerging Literacies
2.1. https://www.youtube.com/watch?v=l72UFXqa8ZU&feature=player_embedded#at=66
2.2. http://education.alberta.ca/teachers/program/literacy/videos.aspx
3. Culturally Responsive Teaching
3.1. Teaching Diverse Learners
3.2. "Culturally Responsive Teaching is a pedagogy that recognizes the importance of including students' cultural references in all aspects of learning" ~ Ladson-Billings,1994)
4. Poverty and Learning
4.1. There are many different kinds of poverty.
5. Universal Design for Learning
5.1. A set of principles for curriculum development that gives all individuals equal opportunities to learn.
5.2. http://www.youtube.com/watch?v=I92QkPdvYRI
6. The Demographic Imperative
6.1. "the still relatively homogeneous teaching force" (Gay and Howard, 2000, p.1)
7. Learning to Change - Changing to Learn
7.1. http://www.youtube.com/watch?v=tahTKdEUAPk
7.2. "Death of education and the dawn of learning."