Office Management edition a
by
Eliska Cikan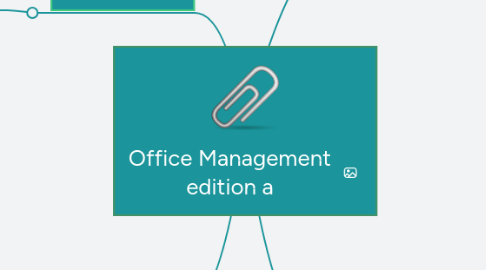 5.0
stars -
8
reviews range from
0
to
5
Office Management edition a
Current Projects
Add projects you're currently working on; note down open questions, tasks, links and files. You can also create a new map for each big project and place a link to it in your main map.
Find a new graphic designer
Requirements, Flexible, Able to work nights and weekends, Reachable at all times, Good with InDesign CS6, At least 2 years experience, Good German skills, Freelancer
Ask for three cover examples!
Organize information booth at Frankfurter book fair
Maybe find a shared booth!?
Have 100 copies of new bestseller delivered there for book signing
Book tickets!, For myself, For B.S., For author
Update press distribution list
Expand
Delete old accounts
Routine Duties
Make a checklist of all your routine duties;
Daily Duties
Kitchen, Dishwasher, Morning, Evening, Coffee machine, Milk & coffee supply
Office, Mail, E-mail, Phone, Switch on in the morning: Press (1) until beeping sound, Switch off in the evening: Press (2) until beeping sound, Receipts
Weekly Duties
Distribute press clippings to authors
Check warehouse stocks of current titles, If < 50: Inform B.S.
Monthly Duties
Book keeping
Today's To-Do List
Note down everything you need to do TODAY. This list should be updated on a daily basis or whenever you've finished a task from the list. You can either check it off or delete it right away.
Research event locations for book presentations
For under 100 people
For over 100 people
Suited for press conferences
Order office supplies
Envelops, 6" x 9", 4" x 9"
Pens, 100 pieces, black with company logo
Printing paper, 6 á 500 pages
Call print office, ask for estimate of costs for new title (print run 3000 copies)
No photosOnly black and whitestandard edition a format
With 192 pages
With 208 pages
With 224 pages
Make appointment with new author
Mobil: 0676/4560332
Reserve table at downstairs café for 4 people
Enter date in B.S.'s calendar
Upload new cover jpgs to VLB, KNV, Libri, Amazon and website
Update webshop
Update covers
Delete books with warehouse stock under 25
Call Thalia > Ask if book presentation can be postponed a week!
Don't forget
Note down everything you can't do right away but need to remember for a later point in time. You can also add dates and link them to your calendar.
As soon as colleague gets back from holiday, ask her ...
To send out invitations for book presentation
To talk to distributors about additional titles in winter
To call back T.M. about editing the winter collection