Mega Agent Business Online Lead Gen to: $300,000 / Year Net Income
by Glenn Sanford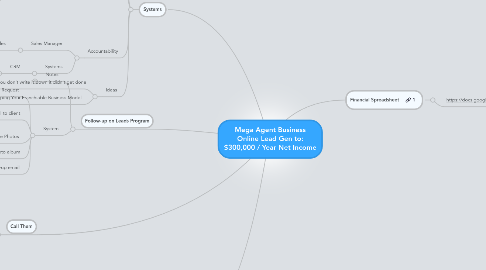 1. Call Them
1.1. Call Script
1.1.1. Points for the Script
1.1.1.1. Always mention on first phone call: Where you are at in the world.
1.1.1.2. I'd like to check to make sure you received my emails from earlier today as well as the photo tour on the property located at 123 main street?
1.1.1.2.1. Yes
1.1.1.2.2. No
1.1.1.3. And by the way: How well do you know <City Name Here>?
1.1.1.4. Mail them a relocation package
1.1.1.5. Remember you are not talking about the specific house that they might be looking for in their own mind.
1.1.1.6. BTW: If you could find your dream house here what would it look like?
1.1.1.6.1. If they can't answer the question, ask them about their current home and have describe what they really like about their current home and what they would like to change.
1.2. Our Job as an Agent
1.2.1. Is to simply help them with a decision that they have already made but haven't been able to make.
2. Follow-up on Leads Program
2.1. Notes:
2.1.1. You only want property listing inquiries
2.1.1.1. Quality not Quantity of Leads
2.1.1.2. You don't want to burn you or your team out
2.1.2. You don't want forced registration into a VOW as a lead
2.2. System
2.2.1. Property Info Request
2.2.2. Initial email to client
2.2.2.1. Notes:
2.2.2.1.1. I can't reasonably call every lead within 5 minutes of getting it
2.2.2.1.2. I keep small promises in order to get the big deal
2.2.2.1.3. Making the small promise
2.2.2.2. Copy
2.2.2.2.1. Hi Jim, First let me say thank you for visiting my website, http://www.mywebsite.com/ earlier today and requesting information on 123 Main Street. Below please find a link to the more complete MLS information directly from the MLS. I have not seen this property in person however I have taken the liberty of calling the seller to drop by and take some additional photos of the home which I will email you later today (or tomorrow) after which I will give you a call to find a little more about what you might be looking for in a home. In the interim please feel free to call me direct @ 360-220-1470. I look forward to being of further service. All the Best, Glenn Sanford
2.2.3. Go and Take Photos
2.2.4. Create some sort of photo album
2.2.4.1. http://appadvice.com/applists/show/photo-sharing-apps
2.2.5. Follow-up email
2.2.5.1. Copy
2.2.5.1.1. Hi Jim, As promised earlier today (or yesterday) I did make it out to 123 Main Street to take additional photos. Below is a link to the photo tour. <Phototour link here> Some things I noticed when viewing the property was: <list at least one or two inferior traits about the property in this email>. I will give a call in approximately 45 minutes or at: 4:30. As always feel free to call me anytime at: 360-220-1470. I look forward to speaking with you a bit later today. All the Best, Glenn Sanford
3. Financial Spreadsheet
3.1. https://docs.google.com/a/exprealty.com/spreadsheet/ccc?key=0ArCjQI8JH5BidExJQTRPVW9UWnRDclhLZW5SWlBZaGc&usp=sharing#gid=0
4. Systems
4.1. Lead Generation
4.1.1. 2 Websites
4.1.1.1. Community Portal
4.1.1.1.1. Website Dedicated to The Community in Which you want to serve
4.1.1.1.2. Drive cheap traffic to your community portal
4.1.1.2. IDX Driven Website
4.1.1.2.1. RealGeeks
4.1.1.2.2. Perfer Open IDX's
4.2. Lead Conversion Piece
4.2.1. BuyerTours
4.2.1.1. Assume The Relationship with the Client
4.2.1.2. Assume Open IDX
4.2.1.3. Follow-up System is as follows
4.2.1.3.1. IDX Lead Comes in
4.2.1.3.2. email this lead as soon as possible
4.2.1.3.3. Go and Take Photos of the Properties right away
4.2.1.3.4. Send a Tour of the Property
4.3. Accountability
4.3.1. Sales Manager
4.3.1.1. DISC Profiles
4.3.1.1.1. High DI
4.3.1.1.2. Disc Pofile
4.3.2. Systems
4.3.2.1. CRM
4.3.2.1.1. What CRM
4.3.2.1.2. Things to Consider in Your CRM
4.4. Ideas
4.4.1. If you don't write it down it didn't get done
4.4.2. Developing Your Franchiable Business Model
5. Personal / Professional Development
5.1. Scripts and Dialogs
5.2. Systems
5.2.1. Lead Generation Master
5.2.2. Lead Conversion Piece
5.3. Managing Yourself and Others
5.4. End Goal
5.4.1. Making Money
5.4.2. Being Happy