Hector Yazzie Browser Wars
by Hector Yazzie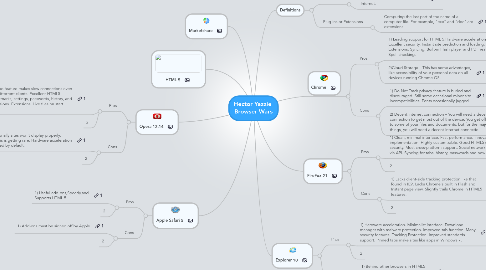 1. Definitions
1.1. Browsers
1.1.1. A computer program that is used to find and look at information on the Internet.
1.2. Plug-ins or Extensions
1.2.1. Computing the last part of the name of a computer file. For example, "exe" and "doc" are extensions.
2. Chrome
2.1. Pros
2.1.1. 1) Leading support for HTML 5.Hardware acceleration. Excellent security. Instant site prediction and loading. Extensions. Syncing. Built-in Flash player and PDF reader. Spell checking.
2.1.2. 2)Cloud Storage – This has some advantages, like accessibility of your personal data on all devices running Chrome OS.
2.2. Cons
2.2.1. 1) Do Not Track privacy feature is buried and discouraged. Still some occasional minor site incompatibilities. Fonts occasionally jagged.
2.2.2. 2) Decent Internet connection – You will need a decent Internet connection to get most out of the device. You get offline access to some of your files and documents, but for the majority of things, you will need a decent Internet connectio
3. Explorer 10
3.1. Pros
3.1.1. 1) Hardware acceleration. Minimalist interface. Download manager with malware protection. Improved tab function. Many security features. Tracking Protection. Improved standards support. Pinned tabs make sites like apps in Windows 7.
3.1.2. 2
3.2. Cons
3.2.1. 1) Behind other browsers in HTML5 support. Only works in Windows 7 and Vista.
3.2.2. 2
4. FireFox 21
4.1. Pros
4.1.1. 1) Clean, minimal interface. Fast performance. Innovative tab implementation. Highly customizable. Good HTML5 support. Good security. Most cross-platform support. Social network integration via API. Syncing for tabs, history, passwords and now Extensions.
4.1.2. 2
4.2. Cons
4.2.1. 1) Lacks client-side tracking protection like that found in IE9. Lacks Chrome's built in Flash and Instant page view. Slightly trails Chrome in HTML5 features.
4.2.2. 2
5. Apple Safari 5
5.1. Pros
5.1.1. 1) Useful add-ons,Speedy,and Supports HTML 5.
5.1.2. 2
5.2. Cons
5.2.1. 1) Add-ons must be signed off by Apple
5.2.2. 2
6. Opera 12.14
6.1. Pros
6.1.1. 1) Minimal interface. Turbo feature makes slow connections even faster. Built-in mail and Bittorrent clients. Excellent HTML5 support. Syncing of bookmarks, settings, passwords, history, and more. Mac and Linux versions. Extensions. Live tiles on start page. Themes.
6.1.2. 2
6.2. Cons
6.2.1. 1) Occasionally sites won't display properly, though this is getting rare. Hardware acceleration not enabled by default.
6.2.2. 2
7. Marketshare
8. HTML 5