Maria Bueno Browser Wars
by Maria Bueno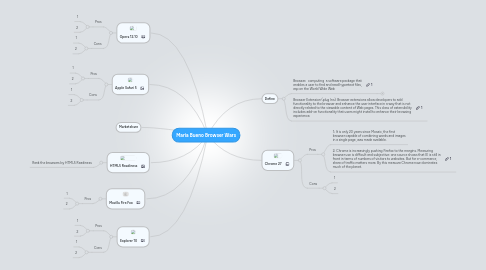 1. Define
1.1. Browser; computing a software package that enables a user to find and read hypertext files, esp on the World Wide Web
1.1.1. Browser Extension (plug In)
1.2. Browser Extension (plug Ins); Browser extensions allow developers to add functionality to the browser and enhance the user interface in a way that is not directly related to the viewable content of Web pages. This class of extensibility includes add-on functionality that users might install to enhance their browsing experience.
2. Chrome 27
2.1. Pros
2.1.1. 1; It is only 20 years since Mosaic, the first browser capable of combining words and images in a single page, was made available.
2.1.2. 2; Chrome is increasingly pushing Firefox to the margins. Measuring browser use is difficult and subjective: one source shows that IE is still in front in terms of numbers of visitors to websites. But for e-commerce, share of traffic matters more. By this measure Chrome now dominates much of the planet.
2.2. Cons
2.2.1. 1
2.2.2. 2
3. Mozilla Fire Fox
3.1. Pros
3.1.1. 1
3.1.2. 2
4. Explorer 10
4.1. Pros
4.1.1. 1
4.1.2. 2
4.2. Cons
4.2.1. 1
4.2.2. 2
5. HTML5 Readiness
5.1. Rank the browsers by HTML5 Readiness
6. Marketshare
7. Apple Safari 5
7.1. Pros
7.1.1. 1
7.1.2. 2
7.2. Cons
7.2.1. 1
7.2.2. 2
8. Opera 12.10
8.1. Pros
8.1.1. 1
8.1.2. 2
8.2. Cons
8.2.1. 1
8.2.2. 2