Social Networking: Market and Build your Business - Scott Stawarz © 2009 - Octāvity
by
scott stawarz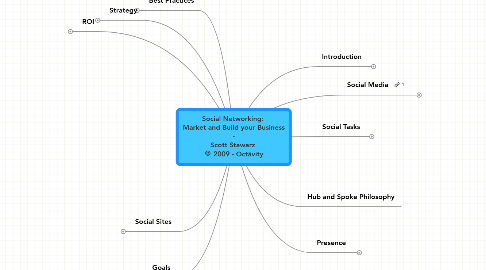 0.0
stars -
0
reviews range from
0
to
5
Social Networking: Market and Build your Business - Scott Stawarz © 2009 - Octāvity
Introduction
Who am I?
Today's Plan
Video
What is it to be Social
Conversation
Internet Marketing Channels
Social Tasks
Listen
What are my Goals?
Identify "talkers", influencers, endusers
Build Relationships
Participate
Hub and Spoke Philosophy
Presence
Where are we?
Where is our competition?
How?
Goals
Drive to Site to Sell
Drive to Mall to Sell
Drive to Affiliate LInks
Drive to Registrations
Build Social Proof
Social Sites
Blog
Other LifeStreaming
Video
Photos
Podcasting / Audio
Resume / Networking
Aggregation
Hyper Location
NEW Upcoming Social
Traditional Methods
Other
ROI
What are the criteria that is important to your business leaders?
Measure where are we now and measure any other benchmark data.
Define our Goals.
Think What are the baby steps to achieve said goals?
Determine the cost of participation.
Some of it is: Build it and they will come.
Strategy
Build Following
Follow people you already know
Tweet your blog
Add your Social Networks to your Traditional materials
Pay for your Followers
Participate in other requests
Case Studies
Best Practices
Slow and Steady, don't expect immediate results.
Always Provide Value to our Audience
Be Consistent and Stick to a Content Creation Schedule, 
"same bat time, same bat channel"
Always be creating meaningful lasting content
Be mindful of our goals.
Be Yourself
Tell the Truth / Transparent to some disagree
Leave the market speak to your traditional Marketing
Social Task Suggestions