LAI 577 - Fulle, Caitlin - Concept Map Session 6
by Caitlin Fulle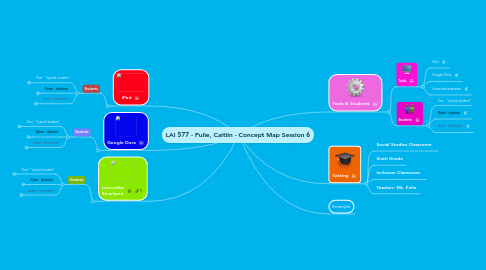 1. iPad
1.1. Students
1.1.1. Toni - "typical student"
1.1.1.1. Toni likes the flexibility of the iPad to complete tasks. He uses the iPad in class to watch educational videos, play social studies game apps, access Google Earth and create videos for METV. For Toni, the iPad allows him to challenge himself and to explore social studies concepts in an interactive environment while gaining quality experience with technology which he will later need for the real world. O'Brien et al (2011) mentioned that video streaming was becoming increasingly popular and that students prefered digital tools that they could interact with versus static images and documents.
1.1.2. Rylan - dyslexia
1.1.2.1. Rylan uses the iPad to access his books on the Learning Ally and Bookshare apps. He is able to sit on the rug with his peers or at his desk instead of behind a computer desk. It also allows him the ability to "flip" the pages in apps such as Nook and Kindle.
1.1.3. Lexie - low vision
1.1.3.1. Lexie likes to use the iPad because she is able to set the accessibility features so that the font is larger and really likes to use the Speak Aloud feature of the iPad to read aloud words online to her. The iPad give her the flexibility to zoom in and out anytime she likes. Lexie also uses the iPad to take a picture text or images in the classroom and then instantly enlarge them without the aid of her teacher or waiting for an enlarged format. This reminds me of the video where the math class is using Khan Academy. The teacher mentioned that the students liked the ability to have instant feedback and to do things on their own. By giving a student a toll that they can use to function more independently in the classroom, they are more apt to learn and ask the important questions, because they can solve the smaller problems on their own with the tools we have given them.
2. Google Docs
2.1. Students
2.1.1. Toni - "typical student"
2.1.1.1. Toni, like every student in the classroom uses the Google Site that Ms. Fulle created for the class. Ms. Fulle provides students with educational videos, games, websites, and quizzes that they can access at home on her Google Site. Students like Toni also use Google Docs to work on projects with their peers in a shared environment when choosing assignments, working from a template Ms. Fulle has created, or accessing the rubric for their assignments to earn full credit. In another one of the videos from EDUtopia, the teacher had students work on projects in school and then save them to the cloud so that they were able to work on them at home. Toni would use the Google Site in the same capacity to access information from any digital device and to work on documents from home and have them save to the Google Drive.
2.1.2. Rylan - dyslexia
2.1.2.1. Rylan is very sensitive about his spelling in front of his classmates. He likes the fact that he is able to proofread his text prior to updating a shared Google Spreadsheet with the rest of the class when they are working in "real time" on a document. Working in "real time" allows for instant feedback and a cooperative learning environment (O'Brien et al, 2011). Rylan also has the ability to have his text-to-speech software read everything aloud that is on Ms.Fulle's Google Site because she makes sure she formats her text correctly on the website so that all students are able to access the information.
2.1.3. Lexie - low vision
2.1.3.1. Google Docs for Lexie gives her the ability to work on the same document as her fellow classmates, but to have her screen resolution and contrast different to meet her needs. There are many keyboard shortcuts for the Hangouts and Apps that Google has to offer. This took time for Lexie to learn, but it saves her time when navigating on the website. She also uses ChromeVox, ChromeShades, and ChromeVis as her sight needs change throughout the day as her eyes get tired. She likes that Google is coming out with new features everyday that add to her technology toolbox and give her better access to information online. Lexie actually suggested that her teacher send home notes to her parents via Gmail so that she is also able to read the message. Lexie likes to take ownership over her learning and likes the fact that he teacher is open to trying new types of technology which make learning easier and more fun for Lexie.
3. Livescribe Smartpen
3.1. Students
3.1.1. Toni - "typical student"
3.1.1.1. Toni asked Ms. Fulle if he would be able to use the Livescribe smartpen to interview his grandfather about being in the military. He thought that using the Livescribe pen would allow him to better transcribe the notes from his interview and to also be able to use audio from his grandfather when finishing the reporting/presentation part of the assignment. He also appreciates when Ms. Fulle provides the class with Pencasts. He likes to re-watch them before a test so that he can refresh himself. He is an audio/visual learner and this is more meaningful to him than studying static notes.
3.1.2. Rylan - dyslexia
3.1.2.1. Rylan likes when Ms. Fulle uses the Livescribe smartpen in class and then shares her notes in a Pencast and sends them to the class. Rylan is able to re-watch and listen to her explaining a list of events on a timeline over and over again without having to ask the teacher to repeat herself. Rylan is able to access the notes from class on the iPad in class and switch between Ms. Fulle's notes and his textbook in an accessible format allowing him to keep everything in one place. Although he doesn't like to use the pen himself because he prefers to type his notes, the Pencasts are really helpful to him. This is a classic example of a teacher using technology to benefit all of her students in a way that is not "forcing" technology on them in order to say that technology was incorporated. All students are given the opportunity to view and re-listen to class notes as many times as they want and on whichever device they prefer.
3.1.3. Lexie - low vision
3.1.3.1. Lexie likes to use the Livescribe pen to take notes for Social Studies. She is able to listen back to anything that Ms. Fulle says and fill in the blanks with anything that she missed. She can also view her notes on the Livescribe Desktop on the class computer or her computer at home and search through her notes to find a vocabulary word. This helps her so that she doesn't have to flip through pages and use her magnifier as much. She likes looking like a "typical" student taking notes and learns thinks better by writing and re-writing her notes.
4. Tools & Students
4.1. Tools
4.1.1. iPad
4.1.2. Google Docs
4.1.3. Livescribe smartpen
4.2. Students
4.2.1. Toni - "typical student"
4.2.2. Rylan - dyslexia
4.2.3. Lexie - low vision
5. Setting
5.1. Social Studies Classroom
5.2. Sixth Grade
5.3. Inclusion Classroom
5.4. Teacher: Ms. Fulle
6. Example