BMIS 647 Ethnotheology - Readings
by
Jonathan Straker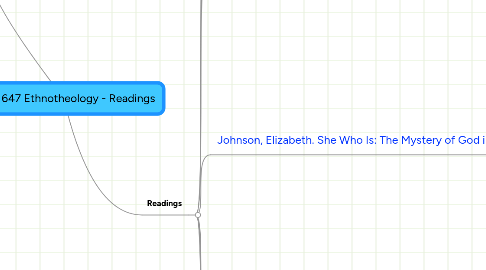 0.0
stars -
0
reviews range from
0
to
5
BMIS 647 Ethnotheology - Readings
Readings
Appiah, Kwame Anthony. "The Case For Contamination." New York Times (January 1, 2006): 30.
Bailey, Kenneth. Jesus Through Middle Eastern Eyes: Cultural Studies in the Gospels. Downers Grove, IL.: IVP Academic, 2008.
González, Justo. Mañana : Christian Theology from a Hispanic Perspective. Nashville: Abingdon Press, 1990.
Hood, Robert. Must God Remain Greek?: Afro Cultures and God-Talk. Minneapolis: Fortress Press, 1990.
Johnson, Elizabeth. She Who Is: The Mystery of God in Feminist Theological Discourse. 10th ed. New York: Crossroad, 2002.
Koyama, Kōsuke. Water Buffalo Theology. 25th ed. Maryknoll, NY: Orbis Books, 1999.
Newbigin, Lesslie. "Christ and the Cultures." Scottish Journal of Theology 31, no. 1 (January 1978): 1-22.
Orobator, Agbonkhianmeghe E. Theology Brewed in an African Pot. Maryknoll, NY: Orbis Books, 2008.
Sanneh, Lamin. Whose Religion is Christianity?: The Gospel Beyond the West. Grand Rapids: W. B. Eerdmans, 2003.
Sedmak, Clemens. Doing Local Theology: A Guide for Artisans of a New Humanity. Maryknoll, NY: Orbis Books, 2002.
Whiteman, Darrell L. "Contextualization : The Theory, the Gap, the Challenge.." International Bulletin of Missionary Research 21, no. 1 (January 1997): 2-7.
Yeo, Khiok-Khng. Musing with Confucius and Paul: Toward a Chinese Christian Theology. Eugene, OR: Cascade Books, 2008.
Zehner, Edwin. "Orthodox Hybridities: Anti-Syncretism and Localization in the Evangelical Christianity of Thailand.." Anthropological Quarterly 78, no. 3 (2005): 585-617.
Misc