BMIS 647 Ethnotheology - Readings
by
Jonathan Straker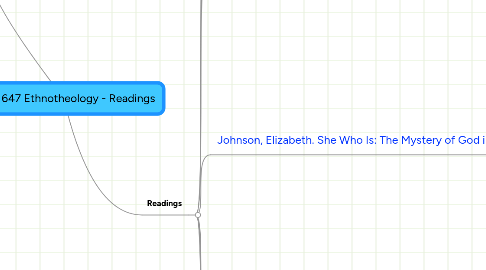 0.0
stars -
0
reviews range from
0
to
5
BMIS 647 Ethnotheology - Readings
Readings
Appiah, Kwame Anthony. "The Case For Contamination." New York Times (January 1, 2006): 30.
Bailey, Kenneth. Jesus Through Middle Eastern Eyes: Cultural Studies in the Gospels. Downers Grove, IL.: IVP Academic, 2008.
González, Justo. Mañana : Christian Theology from a Hispanic Perspective. Nashville: Abingdon Press, 1990.
Hood, Robert. Must God Remain Greek?: Afro Cultures and God-Talk. Minneapolis: Fortress Press, 1990.
Johnson, Elizabeth. She Who Is: The Mystery of God in Feminist Theological Discourse. 10th ed. New York: Crossroad, 2002.
Part I: Background: Speech about God at the Intersection of Mighty Concerns - 1, 1. Introduction: To Speak Rightly of God - 3, A Crucial Question - 3, Context: Mystery Mediated in History - 6, Purpose: Connecting Feminist and Classical Wisdom - 8, Plan - 13, Scotosis vs. the Glory of God - 13, 2. Feminist Theology and Critical Discourse about God - 17, The Lens of Women's Flourishing - 17, Speech about God at the Intersection of Mighty Concerns - 19, Feminist Theology - 22, Critique of Speech about God - 33, 3. Basic Linguistic Options: God, Women, Equivalence - 42
Part II: Foreground: Resources for Emancipatory Speech about God - 59
Part III: Speaking about God from the World's History - 121
Part IV: Dense Symbols and their Dark Light - 189
Epilogue - 273
Notes
Index of Authors
Index of Subjects
Koyama, Kōsuke. Water Buffalo Theology. 25th ed. Maryknoll, NY: Orbis Books, 1999.
Newbigin, Lesslie. "Christ and the Cultures." Scottish Journal of Theology 31, no. 1 (January 1978): 1-22.
Orobator, Agbonkhianmeghe E. Theology Brewed in an African Pot. Maryknoll, NY: Orbis Books, 2008.
Preface
1. Chukwuka: Talking about God - 1
2. A "New God" Comes to Mbanta - 13
3. The Mad Preacher and the Three Persons in One God - 26
4. In the Beginning There Were Many Stories - 37
5. Mama Mercy Meets Lady Grace - 52
6. I Said "God Had a Son," But I Did Not Say "He Had a Wife"! - 66
7. The Church Looked Like the Open Mouth of the Evil Forest - 81
8. Mama Maria, Mother of Sorrows - 94, ..., From Eve to Mary, Hail Mary, Full of Grace, Blessed Are You Among Women, Blessed Is the Fruit of Your Womb, Q. Veneration or worship?, Q. Mary was special, but what exactly? Virtue? Ordinariness?
9. Our Fathers and Mothers Who Art in Heaven - 110, ..., Warm Communion with the Ancestors, The Blessed Living Dead
10. If Two Hands Wash Each Other, Both are Clean: The Meaning and Practice of Inculturation - 125, ..., Inculturation is a dynamic process, Inculturation is an integral process, Inculturation is a generative term, Conditions for inculturation, Freedom, Mutual Enrichment, Dialogue, To be creative, Mutual Respect, Critical, Humble, Conversion, Inculturation is a charismatic experince
11. On the Other Side of Heaven: Spirituality Brewed in and African Pot - 139, blah blah, blah blah, blahblah
Postscript
Sanneh, Lamin. Whose Religion is Christianity?: The Gospel Beyond the West. Grand Rapids: W. B. Eerdmans, 2003.
Sedmak, Clemens. Doing Local Theology: A Guide for Artisans of a New Humanity. Maryknoll, NY: Orbis Books, 2002.
1. Walking, Talking, Doing Theology - 6, Theology: The Why, How, What, Who, and Where - 7, A Guiding Image: The Local Theologian as Village Cook - 17
2. Jesus - 21, Teacher of Theology - 21, The Local Life of Jesus, the Christ - 23, The Authority of Jesus - 26, The Pastoral Theology of Jesus - 28, Theological Occasions - 29, A Theology That Builds Community "As If People Matter" - 31, Good Theology - 35, A Third Look at Jesus - 41
3. Reappropriating Our Tradition - 43, Our Tradition: Asking Questions - 44, Rediscovering the Message of Jesus - 46, Reappropriating the Theological Tradition - 52, Reappropriating the Bible - 56, Inspiring Examples - 63, Good Theology 69
4. Theologies and Local Culture - 73, Culture as a Local Reality - 73, Implicit Theologies - 75, "Value Stories" 77, Theology and the Dialogue with Culture - 79, Local Language - 81, The Filipino Concept f Bahala Na - 83, Cultural Games - 86, Cultural Stories - 90
5. Local Theologies and the Social Situation - 95, Doing Theology within a Particular Social Structure - 96, Special Attention to the Poor - 98, Theological Eyes and Social Glasses - 104, Theological Social Analysis in Practice: Pastoral Letter on Poverty in Alabama (1990) - 109, Regional Theological Sketches - 111
6. Little Theologies - 119, Little Theologies Are Not Cheap Theology - 121, Three Tasks of Little Theologies - 125, Constructing Little Theologies - 130, The Examined Life - 136, Theological Occasions - 141, Discovering Theological Occasions: The Art of Looking at Details - 144, Ingredients of Little Theologies - 146, Working with Images - 147, Working with Proverbs - 150, Working with Stories and Examples - 154
Epilogue: A Culture of Hope - 158
Fifty Theses for Doing Local Theology - 162
Introduction: Waking Up - 1
Whiteman, Darrell L. "Contextualization : The Theory, the Gap, the Challenge.." International Bulletin of Missionary Research 21, no. 1 (January 1997): 2-7.
Yeo, Khiok-Khng. Musing with Confucius and Paul: Toward a Chinese Christian Theology. Eugene, OR: Cascade Books, 2008.
Foreward by Vincent Shen - ix
Preface - xv, Terror, Violence, and the Need of a Theology of Peace, Preview of the Book: Musing with Confucius and Paul for a Chinese Christian Theology, Overture and Epilogue with Six Movements in between, Analects and Galatians, The Henry Luce Family and their Christian Passion, Henry and Elizabeth Luce (1860s to 1940s): "missionaries in reverse" (p. xxiii), Leads to Luce Foundation and influence on Time and Life magazines.
Abbreviations - xxvi
OVERTURE: Identifying with the Life-World of Confucius and Paul - 1, Cultural and Theological Identities - 1, A Diasporic Chinese: A Hybrid Chinese Christian Identity - 3, Malaysian Chinese - 3, Chinese Christian - 6, Migrant/Diasporic Chinese - 11, "Is there any way out for any racial group trying to resolve its cultural or ethnic (sub-)ethnic identity without destroying others? I think the answer lies in a transcendent cross-cultural hermeneutic. It is true that we can read from only one vantage point. But to stand too long at one point..." p. 11This is very close to Volf's "double vision", Confucius: The Ethics of Moral Education and Becoming a Sage-Ruler - 13, Family Background - 13, Political Career - 15, ..., In the State of Qi - 16, Return to the State of Lu - 16, In the State of Wei - 18, In the States of Chen, Cai, and Chu - 19, Return to the States of Wei and Lu - 20, Last Years - 21, Academic Career - 22, Paul: Apostle of the Cross-Cultural Gospel - 25, Childhood and the Hellenistic Jewish World - 25, Jewish Christian - 27, Conversion at Damascus, Arabia, Jerusalem - 27, Antioch and Tarsus - 29, (First) Missionary Journey (46-49 CE) - 29, Jerusalem and His Apostleship (49 CE) - 30, (Second and Third) Missionary Journey (50-57 CE) - 31, Legacy: Death and Apotheosis - 32, Intertextuality of Confucius and Paul: Toward a Moral and Theological Identity of Chinese Christian - 33, ..., Intersubjectivity and Intertextual Reading - 33, Overarching Concepts in Confucius' and Paul's Worldviews - 35, ..., Naturalistic Cosmos and Created Universe (cf. Chapter Two) - 36, Cyclical History (Golden Age) and the Telos of Eschatology (cf. Chapter Two) - 38, Good and Evil, Chaos and Sin: The Nature of the Universe and Human Being (cf. Chapters One, Three, Five) - 39, Ethics and Theology; Virtue and Faith (cf. Chapters One, Four, Six) - 40, Law and Spirit: Ethics (Doing) and Christology (Being in Christ) (cf. Chapters Four, Five, Six) - 42, Inequality and Equality: Social Harmony and Individual Freedom (cf. Chapter Five, Epilogue) - 43, Identifying with Confucius and Paul - 44, "Diasporizing Identity" - 44, Learning Traditions - 45, Messianic Mission and Concern for the World - 47, Hybridity of a Chinese Christian Identity and Theology - 50
1. The Textual Worlds of the Analects and the Letter to the Galatians - 53, Intertextual Reading of Classics - 53, ..., Intersubjective Reading, Exegesis, and Eisegesis - 53, The Meanings of "Classics" - 55, The Analects: Text, Language, and Content - 56, The Classic Text and Its Composition - 56, Language of the Analects: Wenyen - 59, The Power of the Analects: From Yan (Word) to Wen (Culture) - 61, The Analects and the Scholarly Tradition of Learning to Become Human - 64, The Dao of "Human Becoming" and the Confucian Project of an Aesthetic Culture - 67, The Letter to the Galatians: Text, Setting, and Paul's Response to the Crisis in Galatia - 70, ..., The Crisis and the Congregation in Galatia - 70, The Background of Galatians - 70, Paul's Rhetoric and the Crisis in Galatia - 71, The Occasion of the Letter and the Opponents - 72, The Motives of the Disturbers - 73, The Incident in Antioch and Peter's Behavior - 75, Paul's Theological Response to the Crisis - 77, Paul Rebuked Peter for Hypocrisy - 77, Works of the Law and Faith in Christ - 78, Toward a Chinese Christian Understanding of Theological Ethics - 80, Theology and Culture - 80, ..., Theological Culture - 81, The Ethics of Holding to Cultural Assumptions - 84, Culture and Cultured - 86, Theological Ethics--Ethics and Theology - 88, ..., De and Moral Force - 89, The Paradox of Virtue - 92, De as Mutual Indebtedness - 93, Zheng (To Govern) and Wuwei (Natural or Effortless Manner) - 94, Zheng (To Govern) and Zheng (To Correct) - 95, Judaizing Gentiles, Jerusalem Leaders, Paul's Mission and De - 97, God's Spirit, the Cross, and De - 100, A Chinese Christian Ethic of Virtue - 101, Theological Ethics and Moral Choices - 101, The Ethics of Virtue and Doing Good for Goodness Sake - 104, The Ethics of Virtue, Coexistence of All, and the Common Good - 106
2. Theological Ethics in a World of Violence - 110, ..., Commensurability: Tianming in Confucius and God's Will in Paul - 111, Religion, Zongjiao, Jia, and Piety - 111, Tian, Tianming: Heaven and the Mandate of Heaven - 115, Dao, Tian Dao, Ren Dao, and Dao De - 122, Conclusion - 131, The Political Ethics of Confucius and Paul - 132, Religious Violence Despite Piety - 132, Violence and the Galatian Community - 138, Hegemonic System (Ba) and Roman Ideology - 142, ..., The Institution of the Hegemonic System - 142, Roman Ideology and the Political Ideology of Paul - 144, Crucifixion and the Evil Age - 151, The "Violence" of the Cross and Self-Sacrifice of Christ - 151, Jewish Law and Cosmic Elements - 153, A Chinese Christian Understanding of History: Eschatological and Golden Age - 155, The Apocalyptic Theology of Paul - 155, Traditions of the Past - 158, ..., Yao and Shun - 159, Shun and Yu - 161, Da Yu (Yu the Great) - 164, King Wen, King Wu, and the Duke of Zhou - 165, Paul, Confucius, and the Understanding of Time - 168, Toward a Chinese Christian Political Ethic - 173
3. Li and Law, Yue and Music in a World of Ritual and Harmony - 177, ..., Law and Li in the Context of Community - 178, Self and Community - 178, Paul's View of the Law in Galatians - 179, Functions of the Law in Salvation History - 179, God's Faithfulness as the Basis of Abraham's Descendants - 181, The Eschatological Inclusion of Gentiles in Christ's Works - 182, ..., The Function of the Law and the Eschatological Giving of God's Spirit - 186, The Guardian Function of the Law and the Age of the Messiah - 187, Confucius' Understanding of Li in the Analects - 189, Two Meanings of Li - 189, Li and Ritualized Style--Etiquette - 195, Li and Political Rulers - 197, Li and Filial Piety - 198, A Chinese Christian Theology of Li and Law - 201, ..., Ritual and Identity in Cross-Cultural Context - 202, ..., Christian Rituals (Rites) of Baptism and Agape Meal - 207, Envisioning God's New Creation in Christ - 211, The Rule of Law/Li and Harmony in Society - 213, Yue (Music), Harmony/Naturalness, and Beauty - 215, The Understanding of Confucius - 215, ..., Harmony/Naturalness - 217, Harmony and Music - 219, Poetry and Harmony - 225, Ritual, Music, Poetry, Social Order, and Being Human - 227, Music and Its Lyrical Quality in the New Testament - 231, The Tendency of Scholars in Music Studies - 231, Lyrical Quality of New Testament Texts - 232, Lyrical Music and Those "In Christ" within Pauline Churches - 235, Singing with the Spirit, Christological Hymns, and Moral Life - 237, Toward a Chinese Christian Understanding of Harmony - 240, ..., Differences between Confucius and Paul on Music - 240, Ritual, Music, and Harmony - 243, Music as Systems of Harmony and Beauty - 245, Can Beauty Save the World? - 249, Modern Implications - 249
4. To Be Human and To Be Holy in the New World--To Be the People of God - 253, ..., Confucius and Pauline Ethics: To be Holy and to be Human - 253, ..., The Different Understandings of "Grace" and "Human Nature" - 254, The Life of Holiness and Justification - 259, NOTES:, Humanity/Imago Dei bestowed by heaven. This is not so hard to harmonize. Seems that Paul and Confucius differ in externalizing sin (Paul) and the personal nature of Heaven/God., Similarly, sanctification is internalized for Confucius and externalized (though participatory) for Paul., Q: How representative of all Xianity is Yeo's understanding of justification and sanctification? Catholic and Protestant are pretty different on the meaning of sanctification!, A Chinese Christian Ethics: Ritual (Law) of Love in the Life of Holiness - 261, Ren (Humaneness and Benevolence) and Co-Humanity - 261, The Semantics of Ren - 261, Ren as Co-humanity - 263, Co-humanity with Authority and Integrity - 264, cf. p. 266, first quote. This is similar to our discussion of individual vs. collective (Descarte vs. African thought), and the concept of "Self in relation" is very helpful. There is no purely objective self. But we do have metacognition which is a self-distancing ability., Five Confucian Basic Relationships (wulun) - 266, ruler and subjects, duty, father and son, affection, husband and wife, differentiation, older and younger brothers, order, between friends, trust, Renren: To Be a Benevolent/Humane Person - 270, ..., The Move to Full Humanity - 271, Atonement theory? The question is how far has Yeo externalized the roles of sin and savior? In "becoming fully human" how much say do we really have?, Ren and Rulers - 275, Junzi: The Exemplary Person of the Best Moral Self - 276, ..., Junzi and the Best Moral Self - 276, Junzi and Xiaoren - 280, Junzi and Ren - 281, A Chinese Christian Anthropology: Sons of God, Renren, and Junzi - 282, Being Heirs of God (Sons of God), Becoming Renren and Junzi - 282, Living in the Spirit and Becoming Junzi and Renren - 285, Spirit and Law, Li and Ren - 289, Within the Confucian and Pauline Ethics: Love for One's Neighbors - 291, ..., Fulfillment of the Whole Law via Lev 19:18 - 292, Paul's Reinterpretation of the Whole Law into "Law of Christ" - 293, The Significance of Paul's Reinterpretation of the Law - 294, Law, Freedom, and Law of Love - 296, Love cannot be mandated... I'm not so sure about this. These are big and slippery terms (love, Torah, etc.). Jesus certainly uses love in the imperative. If love is (even in part) volitional, then it can be mandated because love is, in part, a willful choice., Beyond Confucian Ethics: Cruciform Ren and Love for One's Enemies - 300, Misc. Notes:, Yeo mentions imago Dei. What is the relationship between Confucius and Paul's respective understanding of theosis and becoming fully human?, Confucius: "tian (heaven) imparted ren (humaneness) as a part of human nature (xing)." p. 301 and elsewhere.
5. Free to Be Human in a World of Difference - 304, ..., Spirit, Flesh, and Freedom in Gal 4:21-31 - 305, The Debate Between Paul and His Opponents: Two Gentile Missions in Galatia - 305, The Allegorical Interpretation of Paul - 306, Allegory and Analogy - 306, Three Facts from the Old Testament Narrative - 308, Four Applications of Paul's Analogical Interpretation - 309, Male and Female in the Thoughts of Paul and Confucius - 311, Paul: Equality and Differentiation - 311, Feminist Critique of Paul? - 311, Feminist Concerns and Paul's Exegesis in Galatians 4 - 312, Ethnic Differentiation and Unity: "Jews and Greeks" - 315, Social Equality and Liberation: "Slave and Free" - 318, Gender Uniqueness and Mutuality: "Male and Female" - 321, Universal Concerns in Paul's Interpretation - 324, Freedom in Christ = taking domination out of the system. Paul doesn't undo the system of slavery in his society (or gender-based discrimination), but he seeks to redefine the received system according to the principle of freedom in Christ., Confucius on Women, Bie and Zhengming - 325, Junzi, Ancestor Worship, and Women - 325, Confucius and Women - 326, Bie, Yin-Yang, Patriarchy, and Zhengming - 329, Zhengming is big here. Yin yang, difference and mutuality, living into a role (which I would think would be close to li (ritual propriety)., Toward a Chinese Christian Understanding of Human Nature and Moral Freedom - 333, ..., Human Nature and Moral Weakness - 333, Confucius' View - 333, Paul's View - 336, Moral Freedom - 339, People of God in the Life of the Spirit: Positive and Negative Freedom - 339, ..., Negative Freedom and the Negative Imperative - 339, Positive Freedom and the Positive Imperative - 340, Moral Choice Between Spirit and Flesh - 341, Following the Spirit toward the Freedom of the Community - 341, Spirit in Paul's Ethics Insightful to Confucius - 342, It would have been helpful if Yeo had specifically contrasted the Pauline conception of 'righteousness' with the Confucian 'ren-li' construct., Notes:, Evil as counterpart to good (Yin-Yang), Evil as rebellion against mandate of heaven (imbalance, lack of harmony), Paul: spiritual evil, economic., Again, for Confucius evil is understood differently, either as lacking ethically or as cosmically out of balance, and is essentially internal. For Paul, evil is external, but something in which the person participates., A Chinese Christian Theology of Freedom - 344, ..., Freedom, Goodness, and Benevolence - 345, To Be Fully Human via Differentiation and Socialization - 346, Being Fully Human, Social Selves, and Moral Obligation - 347, Social Self and Moral Obligation - 347, MAJOR: "All are bound to one another to be human in the task of becoming fully human: In edifying others a person edifies himself; in being racist toward others he diminishes his own dignity as a human being..." This is very close to Tutu's description of Ubuntu and its relevance for restorative (versus retributive) justice! The question is, for nation-states like Japan that have an undergirding Confucian ethical system, can this be extended to the level of nation-state? If a person seeks to be junzi, is there an equivalent for the nation? What does it mean for the nation to become fully human? Can there a national equivalent for renren?, Freedom to Serve - 348, Freedom, Death, and the Human Story - 351, Abel and Jesus "Jesus has died, no one else should, not even Cain." cf. Rabbi Jonathan Sacks. This is the christological side (again, economic and atonement theory questions remain) of junzi and ren. MAJOR: further down the page he talks about Abel dying. Death as retribution diminishes our humanity as a whole, but death as self-sacrificing love (cruciform) is living into the imago Dei or junzi., Notes:, Here and in previous chapters, Yeo points out how Paul utilizes traditional language and concepts even while transforming and reinterpreting them.
6. Zhongshu (Loyalty-Empathy), Xin (Trust), and Pistis (Faith) in a World of Fear - 355, Civil Society and Civility - 355, Toward a Chinese Christian Theology of Community - 356, ..., Zhong and Shu - 357, The concept of shu comes close to Volf's configuration of double-vision., Shu in the Galatian Situation - 360, Self-Forgetting as Shu - 360, "Become as I am, because I also am as you are" (Gal 4:12) - 362, The Pain of Betrayel: Where is Empathy? Where is Shu? - 363, Again, Yeo is in close proximity with Volf: the discussion correlates to Volf's discussion of the de-centered and re-centered self in Christ., Hierarchy and Zhongshu - 364, The Unity of Zhongshu - 366, Dao and the Truth of the Gospel - 368, A Chinese Christian Theology of Jing (Respect) and Mutual Honoring - 370, Shame and Honor Culture and Jing - 370, Dyadic cultures and co-humanity is relevant to the discussion of ubuntu above., Jing, Mutual Respect, and Mutual Honoring - 371, Abraham's Descendants as the People of and for Blessing - 374, A Chinese Christian Theology of Xin and Mutual Trust - 375, ..., Confucian Xin and Pauline Pistis - 375, Trust as a Relational Concept - 375, Trust and Word, Yan or Kerygma - 377, The Power of Word, Trust, and Obedience - 379, The Pistis of Christ as the Divine Paradigm of the Fully Human - 380, ..., Works of the Law and the Faithfulness of Christ - 381, The "Faithfulness of Jesus" and the Boasting of the "Works of the Law" - 383, "Trusting in Christ's Faith(fulness)" - 385, Christian Faith is Faith in Christ Imitating the Faithfulness of Christ - 386, Seems like Yeo is heading for a critique of the internal justification of the Confucian system., Fear of Lawlessness and Sin: Trusting Christ's Life in Us - 390, The Ritual of Crucifying Life - 392, Trusting in the Wholly Other - 394, ..., Social Self of God and Humanity - 394, Otherness of Self and the Son of God - 395, Love as Reaching Out (Zhong) and Self-Forgetting (Shu) - 397, The "Scandal" of the Cross (Gal 5:11) - 397, Toward a Civil Society of Trust and Zhongshu - 398, Bottom of 398ff. Xander, like this focus on other-centeredness?, "...it also turns the Confucian system upside down by modeling for humanity how the cursed and rejected Son of God became the person of faithfulness." p. 400. There it is--the aforementioned critique! But more the abuse of hierarchy and estrangement than internal justification.
EPILOGUE: Implications for the Moral and Theological Identities of Chinese Christians Today - 402, The Ethical and Theological Tasks of Chinese Christians - 402, Theologico-Cultural Identities: Dynamic Change - 403, The Task of Being Creatively Faithful to Living Texts - 403, Beauty in Diversity: Journeying to Others and Self - 405, Chinese Identities: Hybridity and Diversity - 405, ..., China, Chinese, and Overseas Chinese - 406, ..., Cultural and Political Identities - 407, Chinese Identity in Relation to China - 409, Toward a Chinese Christian Theology of "Being Human": Human Rights in Chinese Identity - 410, MAJOR: To apply the model of wulun and li, how does the parent empower the child and offer betterment (for the sake of junzi) when (as is the case when the parent is the state or mother country) the parent does not die? This is the unresolved tension between mainland China and Hong Kong., Bottom of page 417: "Today freedom..." excellent contrast of three understandings of freedom., Chinese Identity in Taiwan - 418, Democratic Process, Freedom, and Chinese Identity - 418, Toward a Chinese Christian Theology of Freedom - 420, Representation, Equality, and Freedom - 421, ..., Hybrid and Multiple Identities - 422, Toward a "Theologico-Cultural Chineseness - 423, Ethnic Identity and "Living Tree" - 423, Confucianist China and the Inclusion of Minorities - 425, Theological China--God's Country (Shenzhou)? - 426, Bold claim!, The Challenge of Chinese Christians: Toward a Fiduciary and Global Community of the Spirit - 430, The Contribution of Chinese-Christian Theology to the Universal Church - 430, Mutuality Between Chinese Church and Global Church - 431
Bibliography - 433
Index of Subjects - 451
Index of Modern Authors - 462
Index of Ancient Texts - 466
Vocab:, Dao: way, Daode: Way of Virtue, De: Virtue, Junzi: best moral self, Li: ritual propriety, Ming ming: ?, Ren: benevolence/humaneness, Renren: benevolent person, Shu: Empathy, like-heartedness, Tian: heaven, Wulun: five areas of relationship, Xin: Trustworthiness, Xing: human nature, Yi, Zhengming: proper naming; befitting a name..., Zhong: Loyalty, single-heartedness, Jing: Respect, Shengren: Sage
Misc. Notes:, The cross-cultural person CANNOT be incarnational inasmuch as he or she cannot be born into the host culture. The best she or he can hope for is to be culturally aware/sensitive. HOWEVER, the gospel IS incarnational. As it is passed on, as it is received and expressed in each new generation, it is, in fact born anew in that context.
Zehner, Edwin. "Orthodox Hybridities: Anti-Syncretism and Localization in the Evangelical Christianity of Thailand.." Anthropological Quarterly 78, no. 3 (2005): 585-617.
Misc