A non-concise, non-binding family tree of people who dig Zimbabwean music
by
Joel Laviolette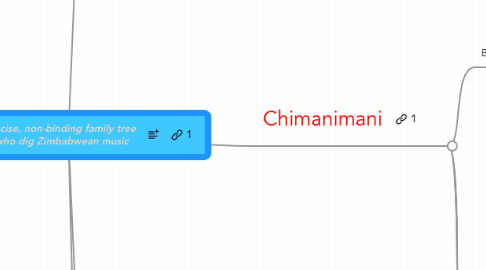 5.0
stars -
1
reviews range from
0
to
5
Current Editing Conventions: Band names are in RED and in large size. If more than one person creates a band, choose one and use a BLACK arrow to link the other names to the band with the "connect" feature. Connect a persons name to their own name in other bands to see their own band progression. Use the GREEN arrow.
Dumi and the Maraire Marimba Ensemble
Dumi and the Maraire Marimba Ensemble formed in 1978.  
Claire Jones
This person could write their story
Michael Bradley
Larry
MaiChi
Bobo
Brett
Steve
Tracy
Virginia
Mark
Bonnie Carol
Mary Ellen Cuthbertson Garrett
Tara Skye Goldin
Max Krimmel
Karen Marx
One could write what they like about Dumi here.   My suggestions: When he got to US.  What and where he studied before coming etc.  
Students - University of Washington
Dumisani Maraire taught marimba and mbira to a number of students at the University of Washington from 1968 -1972. Dumi and some of the students would occasionally perform as an ensemble in the Seattle area. The students who regularly performed are listed.
Dumi and the Minanzi Marimba Ensemble
Dumi and the Minanzi Marimba Ensemble formed in 1975, the first marimba band in the USA. The band consisted of the founder and leader, Dumisani Maraire, from Zimbabwe, and former students of the University of Washington and The Evergreen State College, plus two members from Black Arts West. The band became a popular fixture of the Seattle nightclub scene and throughout the Pacific Northwest. In 1977 they went on a 6-week tour of the US, performing in numerous cities around the country, including a performance at The Kennedy Center for the Performing Arts in Washington DC. The band released a 1977 album "Rufaro" and a 1977 45 rpm with the songs Chiro Chacho and Mweya. Dumi and the Minanzi Marimba Ensemble disbanded in 1978. This was a groundbreaking band that started the widespread and growing interest in Zimbabwe marimba music.
Dumi and Minanzi III
Maybe inception dates, etc?
Corvallis
Dumi Workshops
TESC
?
Animal Opera