eCommerce Entities
by joshua boswell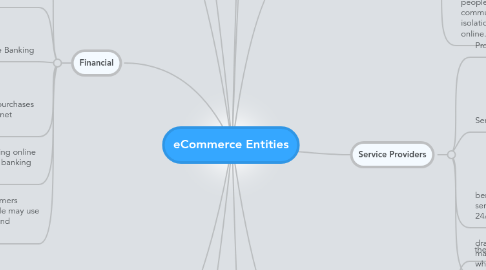 1. Service Providers
1.1. Provides services for people online
1.2. Service Provider Examples
1.2.1. BT
1.2.1.1. Provides broadband, telephone and phone access
1.2.2. NHS
1.2.2.1. Provides medical details, appointments and schedules on the internet
1.2.3. National Rail
1.2.3.1. able to check train times and where they are going to online
1.3. benefit - they provide a range of services and support very quickly and 24/7
1.4. drawback - they may not be very reliable as they may not be updated as often as they should which can cause delays in the system.
2. Manufacturers
2.1. these sell products directly to the product
2.2. Example of Manufacturers
2.2.1. Dell
2.2.2. HP
2.2.3. Apple
2.2.4. Apple
2.2.5. HP
2.3. benefit - Manufacturers also include a warranty when a product is bought directly from the store.
2.4. Drawback - When a product has broken, the factory is the only place to get the repairs from to fix the product.
2.5. benefit - Manufacturers include warranties which protect
3. Existing Retailers
3.1. these are the people that have shops on the high street and also have websites.
3.2. Bricks and Clicks presences.
3.3. benefit - you buy from online or on the high street
3.4. drawback - sometimes some of the offers are either only in the shop or only online.
4. Financial
4.1. Payment Methods
4.1.1. Paypal
4.1.2. DaoPay
4.1.3. e Trust
4.2. Ability to transfer money between different accounts over the internet.
4.3. Online Banking
4.3.1. Lloyds TSB
4.3.2. Barclays
4.3.3. Santander
4.4. Allows you to make online purchases from anywhere with an internet providers
4.5. they provide a financial backing online e.g. PayPal services, internet banking and etc.
4.6. Drawback - the security may be a concern as customers confidential information may be intercepted, people may use simple PIN numbers which can be easily guessed and changed
5. Etailers
5.1. Etailers Examples
5.1.1. Ebay
5.1.2. Play.com
5.1.3. Amazon
5.2. Etailers are online shops that people use to buy products from all over the world.
5.3. Benefit - they offer a wide selection of products and customers can buy products 24/7
5.4. Drawback - the products may be damaged or different than shown on the online website. or if the website goes down, people will not be able to buy any products.
6. Consumer Led
6.1. Responding to the needs of the providers and that the customers are responsible for the buying and selling of goods and that the products are based on the customers needs.
6.2. benefit - it changes the product to the customers needs and liking
6.3. drawback - it may cause controversy as they may not be able to use all the customers recommended.
7. Social Impacts on employment
7.1. benefit - it can make people and come closer as more jobs are being made within the community. more jobs are being made in customer service and in warehouses.
7.2. drawback - it can cause people to lose jobs as more people are buying goods online which can cause the community to fall. Also more shops are shutting down as more people are using computers so it is forcing out workers from shops and making people travel far distances to shop.
8. Social Impacts on Society
8.1. benefit - it will benefit people that struggle with accessing the high streets as they may be old or have a disability so they can use online services to buy products.
8.2. drawback - it can cause people to travel long distances as they have moved away. this can cause a loss of communication to friends and family.
8.3. people that shop from their home can cause a community breakdown and can cause social isolation since they always buy products from online.
9. Customer Perspective
9.1. Customer Perspective is where customers can get more high value items, extended guarantees, low prices, discounts and other benefits as more shops are trying to persuade the customer to buy the product straight away.
9.2. customers are able to get more products for their money
9.3. Security has improved a lot so more people choose to buy online rather from the high street
10. Impact on Economy
10.1. Increasing Import from other countries will lower jobs in UK as more products are imported.
10.2. We are also exporting goods as websites are becoming known around the world.
10.3. they are more people importing products but not exporting enough so people are losing jobs in the recent economy
10.4. less money is being made as less products are being exported so less VAT and Tax is being made so the government are losing money from imports.
11. Impacts on High Street
11.1. benefit - it allows customers to view the product they are buying and it also allows the customer to try the product before they buy it.
11.2. drawback - it can cause the customers to view the product in store and buy it online. this can cause the high street shops to lose money and even shut down.
11.3. high street shops are always competing with each other as they are lowering prices, selling high value branded items and also customising different products to the customers requirements.