FRAMEWORK AND MODELS
by Cassie D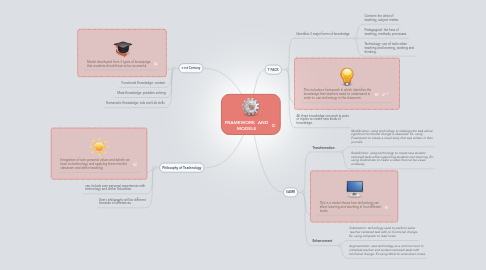 1. T PACK
1.1. Identifies 3 major forms of knowledge
1.1.1. Content: the what of teaching, subject matter.
1.1.2. Pedagogical: the how of teaching, methods, processes.
1.1.3. Technology: use of tools when teaching and learning, working and thinking.
1.2. This includes a framework in which identifies the knowledge that teachers need to understand in order to use technology in the classroom.
1.3. All three knowledge can work in pairs or triples to create new kinds of knowledge.
2. SAMR
2.1. Transformation
2.1.1. Modification: using technology to redesign the task where significant functional change is observed. Ex: using Powerpoint to create a visual story that was written in their journals.
2.1.2. Redefinition: using technology to create new student centered tasks while supporting students own learning. Ex: using GoAnimate to create a video that can be views endlessly.
2.2. This is a model shows how technology can affect learning and teaching in four different levels.
2.3. Enhancement
2.3.1. Substitution: technology used to perform same teacher centered task with no functional change. Ex: using computer to read notes
2.3.2. Augmentation: uses technology as a common tool to complete teacher and student centered tasks with functional change. Ex:using Word to write down notes.
3. 21st Century
3.1. Model developed from 3 types of knowledge that students should have to be successful.
3.2. Functional Knowledge: content
3.3. Meta Knowledge: problem solving
3.4. Humanistic Knowledge: Job and Life skills
4. Philosophy of Teachnology
4.1. Integration of own personal values and beliefs we have on technology and applying them into the classroom and within teaching
4.2. can include own personal experiences with technology and within Education.
4.3. Every philosophy will be different because of differences.